This is another question that relates to the home I currently live in, as opposed to the workshop, where dampness has been 'accepted' for the last eight years.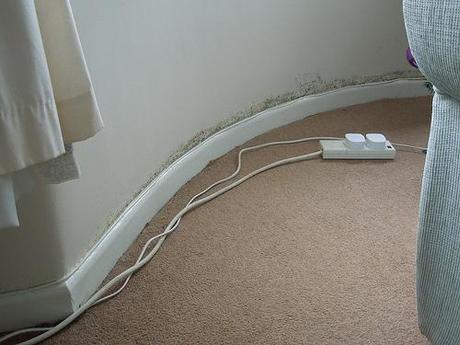 Damp beneath bay window.
This is beneath the bay window in the living room at the front of our house and this room was redecorated only two years ago. That's mum's solution to this kind of problem – paint over it! But, I know that won't 'fix' it or even come close.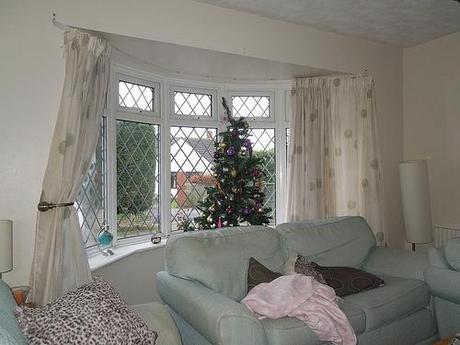 Bay window in the living room.
There are several possibilities as to what is or could be causing the damp. There could be a lack of damp proofing in the structure below; it could be in the wrong place or at the wrong level; there could be 'crap' and debris sitting inside the cavity walls… Those are the first thoughts on my mind.
When it comes to tackling this one, my first thought is – how 'easy' would it be to fit a simple vent to a curved wall?
On the adjacent wall (to the right, past the radiator but out of view in these photos) there is already one vent but, there's no damp along that wall. It is only along the walls on the front of the house, which includes my bedroom wall (which is also downstairs).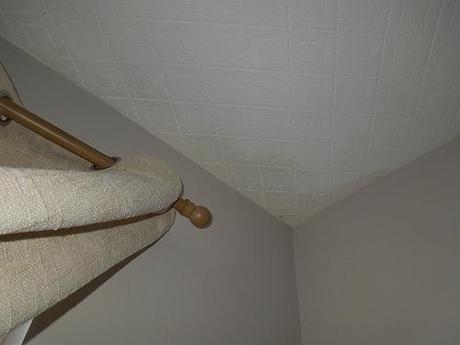 Damp ceiling in my room.
We had some trouble with the roof a few years ago. I forget what it was but, someone did fix it. It might have been that some tiles were out of place (I vaguely remember something was trying to nest in there…) and the gutters were clear, which I should check again.
My room was also redecorated in 2011 once I had moved elsewhere. But, the same mould runs above the skirting on that side and, as you can see above, there are signs in one corner of the ceiling. Fitting a vent in there would be easy as the walls are straight. But, what could we do about the staining here? I don't like leaving windows open all the time.
Any thoughts or experiences on these matters would be greatly appreciated.