I have been on a bit of a musical kick lately, no doubt due partly to having seen The Book of Mormon performed a couple weeks ago.  And so long as I have been in the mood to take in musicals, I figured it was about time that I sit down and watch Damn Yankees!
The film was created in 1958, based on the 1955 Broadway musical Damn Yankees!  The protagonist of the tale is a man named Joe Boyd, an older gentleman when the movie begins, and a deeply devoted Washington Senators fan.  Unfortunately for Joe, the Senators are not very good.  One evening, having witnessed yet another loss by his beloved team, Joe rashly declares that he would sell his soul to the devil to see his team beat the Yankees.  His declaration is heard by a man called Applegate, who tells Joe that not only can he make this wish happen, he can also arrange for Joe himself to be the team's hero.  All for the low, low price of one soul, of course.  Joe, however, manages to arrange an "escape clause," through which he would be able to exit the contract and return to his current life on September 24th.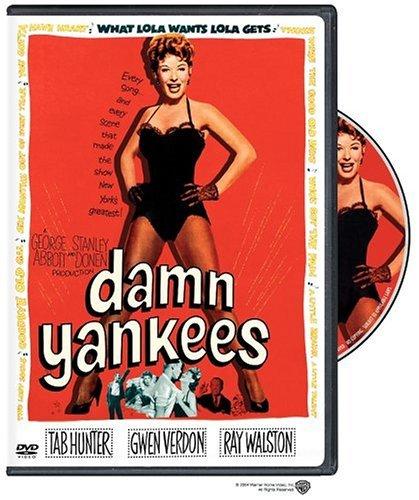 This means, however, that Joe must leave his wife, Meg, behind for the duration.  While Joe sings his heartfelt goodbye to Meg, Applegate works his magic and transforms Joe into a 22-year-old version of himself, calling him Joe Hardy (in addition to playing baseball, Joe will now be solving mysteries with his brother Frank!) and telling folks that Joe is from Hannibal, Missouri.
Joe and Applegate arrive at the Senators' next practice, where Joe puts on an impressive show, especially with his bat.  Joe is signed to a contract with the team.  Meanwhile, sportswriter Gloria Thorpe nicknames him "Shoeless Joe from Hannibal, Mo," and she expresses her determination to bring Joe a lot of publicity.
Joe leads the Senators on a long winning streak and becomes a hero.  He misses his wife terribly, however, and finally goes and convinces Meg to take in Joe Hardy as a boarder.  Applegate is concerned that this turn of events could ruin his plans, however, so he summons his demonic right-hand girl, Lola.  Lola was once known as the ugliest woman in Providence, Rhode Island, until she sold her soul to Applegate for youth and beauty.  Applegate orders her to make Joe forget his wife, a task Lola is certain she can carry out.  She receives quite a surprise, however, when she discovers that Joe loves his wife so much that he does not fall for Lola's attempts at seduction.
Coming upon the end of the season, the Senators are on the verge of overtaking the Yankees.  The sportswriter Gloria Thorpe, meanwhile, returns from Hannibal, Missouri, where no residents remember anybody named Joe Hardy, and she confronts Applegate about Joe's real identity.  Applegate implies that Joe is actually Shifty McCoy, a corrupt minor leaguer playing under a different name.  Word gets out, and headlines erupt, accusing Joe of being Shifty.  Joe is now required to meet with the baseball commissioner for a hearing or else get thrown out of baseball.  The meeting just happens to fall on September 24th, the day he is scheduled to make his request to switch back to being Joe Boyd.
At the hearing, Meg and her friends arrive as material witnesses, testifying to Joe's honesty and falsely claiming he grew up with them in Hannibal.  The commissioner acquits Joe, but as the celebrations ensue, midnight strikes and Joe realizes he has missed his chance to escape from his deal with Applegate.
We learn that Applegate has planned for the Senators to lose the pennant to the Yankees on the last day of the season, resulting in thousands of heart attacks, nervous breakdowns, and suicides of Senators fans and Yankee-haters all over the country.  However, Lola is now firmly on Joe's side, and she lets Joe know she's drugged Applegate so that he will sleep through that final game.  By the time Applegate wakes up again, the game is well underway.  Angry, Applegate turns Lola back to an ugly woman, and the two race to the ball field.
I should probably stop there, in order to avoid spoiling the rest of the story for anyone who has yet to see it.  Overall, I found the movie quite amusing, even if a bit cheesy.  The combination of baseball and comedy made it worth my while, I felt, and I do like that one doesn't necessarily have to be a baseball fan in order to be able to appreciate the plot of the film.