Damn LOL Blogger Template is perfect for pictorial related blogs and websites. It has a dark color scheme which looks dazzling with images. Damn LOL is one of the most prominent Troll Related website that shares Trolling pictures, Funny images and etc. This theme exactly looks a like Damn LOL. Furthermore, This Theme has all those features which are vital to run a picture based site. We are sure after applying it on your BlogSpot site you would never turn back to your old template.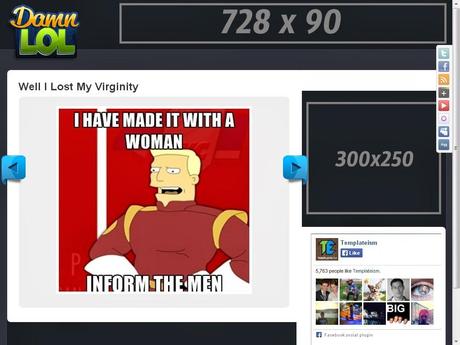 Live Demo
Download
Instructions: 
How to Install/Upload a New Template on Blogger Blog or Blogspot?
Template Name: Damn LOL Blogger Template
Platform: Blogger / Blogspot
Release date : 25, December 2012
Author : www.templateism.com
License : Creative Commons Attribution 3.0
Features of Damn LoL Blogger Theme
Excellent Page Speed

Google Adsense (Advertisements) ready

Floating Older/Newer Post Buttons

SEO Friendly

Adapted From WordPress
More Features : Sidebar, Footer, Fixed Width, Dark Whitish background, Threaded commenting system.
Important Instructions:
Set One Post on Home Page: To Increase your page views rapidly, we would suggest everyone to display one post on the main page i.e. Homepage. Go To Blogger >> Settings >> Post and Comments >> and Select 1 Post to be displayed on Homepage. 
Have a Nice Day!