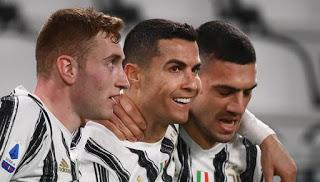 Juventus have moved 3-0 up over Cagliari thanks to a rapid hat-trick from Cristiano Ronaldo.
The Portuguese opened his account with a flying header, before earning and scoring a penalty, before completing his hat-trick with half an hour on the clock with a neat left-footed strike.
Also with today goal Cristiano Ronaldo (75) has now surpassed Paulo Dybala's (70) Serie A goal tally.
Juve will meet Benevento in the 25 round of Serie A matches.