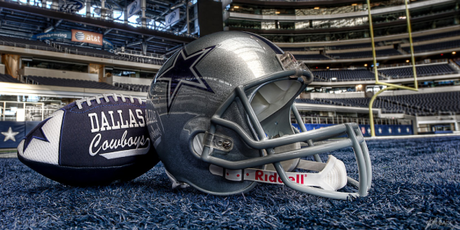 It's here! It's here!
This season I wanted to do something special for the start of the NFL season and the Cowboys campaign to make it back to the promised land. So I reached out to my friend and football aficionado, Shannon Kelly, to write the Dallas season preview. With a big win in week 1 against division rival (and all around bad guys) New York Giants, the 'Boys look like they do have a shot at a solid season.
Without any further ado, I present to you, The Dallas Cowboys 2013-14 Season Preview by guest poster Shannon Kelly of Wears Pearls to the Ballpark.
When asked to write a 2013 preview for the Dallas Cowboys, I was a little frightened. It's hard for me to say a bad word about my Boys. Being a fan since just after I could tie my own shoelaces, stars run through my blood. But, I'm a football fan first and foremost, and can tell it like it is. This season has me excited and hopeful. With new personnel, and few rookies in the mix as well as a very tuned in Tony Romo at the helm, I believe this team could go all the way. Here's a few components to consider.
Things to Watch:
Travis Frederick – there's been issues with the Cowboys center in the last few years. Phil Costa is currently better known for his engagement to Brooke Hogan than his play on the field. I swear, google it. Frederick was drafted in the first round this year to solve the problem, the only issue, he's a rookie. In first game of the season, he did a good job with room for improvement. Only having one play with a fumble on the hand off could be a good sign for the Cowboys o-line.
Miles Austin – Miles Austin has been plagued with injuries during his time with the Cowboys, but that doesn't mean he can't be a weapon for the Cowboys offense. With a total of 72 yards vs. the Giants, Austin proved he can be a go-to guy for Tony Romo. This eases the pressure on Dez Bryant, who was facing double coverage all night.
4-3 Defense – talk about a switch up. The Cowboys have been playing a 3-4 pattern since before DeMarcus Ware suited up in the blue and white. Monte Kiffin replacing Rob Ryan has truly made all the difference. Blitzing all night didn't help the Cowboys in the 2012 season and they look to be on track to destroying all of last years statistics. Watch for more forced turnovers and key playmakers like Sean Lee and DeMarcus Ware to man-up and shut down the run game.
Issues that Need to be Worked On:
4-3 Defense – while I think this will be the difference for the Cowboys in the 2013 season, is also needs improvement – fast. The Cowboys won their Home Opener because of 6 turnovers, not because their defense shut down Eli Manning and his offense. Victor Cruz scored 3 touchdowns too many, and the Giants clocked 450 yards. Far too many for a team that needs to keep winning games.
Cowboys Depth – yet again the Cowboys wasted a Draft. Travis Frederick and wide receiver Terrance Williams are the only two rookies who could make an initial impact, the others will have to prove they can play in the big league. Not to mention the Defensive line. Injuries will be the true sign as to whether this team can be a playoff team or not.
The Question of Tony Romo:
Like him or not (I don't really) Romo keeps the Cowboys dream alive every year. There is no clear indicator as to whether or not he could be a Super Bowl QB, but he could be a post-season QB. That's enough to hang your hat on for now. If he remains injury free, the Cowboys should be at the top of the NFC East.
Prediction: 10-6 for the Season