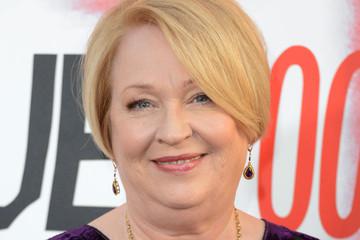 In the past five seasons of True Blood we have learned to love Dale Raoul's character Maxine Fortenberry on the hit HBO show.  A lot of people may or may not know but she is a veteran actress who has been on stage, film and television for the past three decades.  She is a familiar face when it comes to television since she's been in such shows as: The Middle, The Office, Six Feet Under, Friends, NYPD Blue, Seinfeld and many more.  She has also been in a few feature films such as The Mexican, Beautiful, Seven Pounds, Forfeit, Save the Mavericks, and many more.
When she is not busy with work she is dedicating much of her time to the Los Angeles opera, various animal shelters and adoption charities and artist confronting AIDS.  She was kind enough to save some of her time to answer a few questions that Call Me Adam had for her about True Blood and just a few questions to know the actress herself a little bit better.
1. For you to become a performer who or what helped inspired you to do that?
"My father was a lawyer and I think seeing him in the courtroom appealed to my sense of the theatrical.  Also my mother took me to community theatre, and I remember being fairly dazzled by that.  It seemed so exotic and romantic!"
2. Who would you like to work with but haven't had the chance to yet?
"I am a big fan of Helen Mirren, Alan Rickman, and Michael Fassbender.  Working with any of them would be so exiting."
3. You have been playing Maxine Fortenberry on True Blood for the past five seasons.  What made you want to work on this series?
"It was a prospect of working for Alan Ball, who had first created Six Feet under.  I admired him enormously, and still do of course.  His brains, talent, compassion and humor are undeniable."
4. What have you enjoyed the most about playing Maxine?
"Maxine's journey on the show has been so wild!  I've been possessed, bitten by a vampire, gotten drunk, and played Wii like a maniacal fend.  Anything the writers come up with is amazing and always, always surprising."
5. How would you describe your character on True Blood and also how has she grown over the years?
"Maxine is definitely a girly girl, believe it or not!  She likes accessories and clothes and makeup – I like all those things too.  But she is narrow minded and selfish – at least that's how people perceive her.  I think that as years have passed, we realize that she has had a difficult life and that she is very insecure and afraid.  That is why she is unable to let Hoyt grow up."
6.If you could choose the path that Maxine would take in future episodes of True Blood what path would that be?
"I would love to see Maxine get a boyfriend!"
It's interesting to see her take on her own character.  To read more of the interview you can read it here.
Source: CallMeAdam.com – "Dale Raoul: True Blood Interview"
Image Credit: Frazer Harrison/Getty Images