I've had a week off this week which was spent hanging with my girls, catching up with some old work mates and doing some decorating.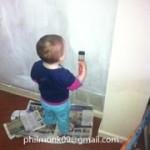 The one thing that Jessica has inherited from her mom is her need to be involved in anything DIY related. As soon as I get my tool box out she dives in handing me tools and more rawl plugs than I could possibly need, it's a constant stream of tools and screws. Although she is very good at putting them back in my tool box at the end.
So when I decided to take all the tiles off the bathroom wall a little someone jumped at the chance to grab a hammer and try and help daddy take tiles off the wall, although she wasn't too keen on the banging and clattering I was making taking the tiles off the wall but she did try and help me tidy up. It was a good job no one from health and safety saw the scene.
Later in the week I had to do some painting in the living room, once again daddy's little helper appeared, took the brush out of my hand. Luckily I was just putting on an undercoat so it didn't really matter what she did. Once she'd discovered the paint pot she had to spend all of her time dipping her brush and smearing paint on the wall with her hands.
Luckily at 20 months she gets distracted easily and once an episode of Mickey Mouse club house started it was time to down tools for a much needed rest and leave daddy to it.
To me this is the fun part of being a parent, watching her learning and figuring things out and also wanting to hang out and help daddy too.