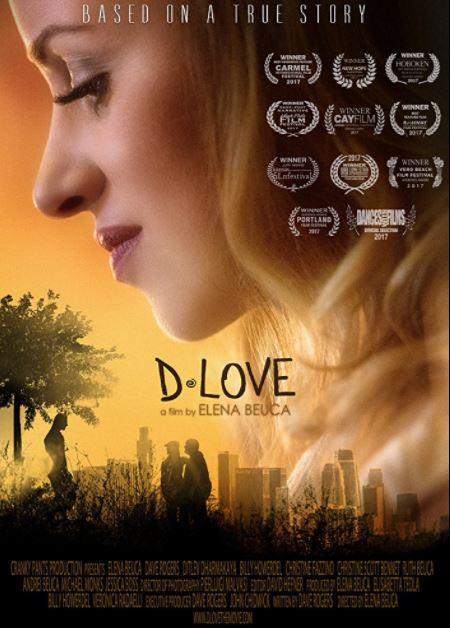 Director: Elena Beuca
Writer: Dave Rogers (Screenplay)
Starring: Elena Beuca, Dave Rogers, Ditlev Darmakaya, Billy Howerdel, Christine Scott Bennett, Jessica Boss
Plot: Stefania reaches an existential crisis, amidst the stresses at home, at work, and in her memories. Her life and that of her hapless husband turn when they take in a charming and mysterious traveler, a gentle wanderer on his own quest.

Runtime: 1 Hour 36 Minutes
There may be spoilers the rest of the review
Verdict: Powerful Real Life Drama
Story: D-Love starts as we meet the Michael's family, Stefania (Beuca) and Dan (Rogers) returning from a holiday to face the stresses of life, Dan struggles to find a job and is clumsy but a good man as he has dealt with his problems by closing off, while Stefania wants to put him back on the right track. When they arrive back they meet Danish traveler D-Love (Darmakaya) who they offer to give a place to stay while he waits for his bus, which continues to put a wedge between the two as Stefania doesn't want to let him into their home, while Dan shows his good-natured side.
When D-Love stays longer his freestyle nature starts to spread to Stefania who has always spent her life searching for a plan after giving up on dreams, but the reality of life will always come back to haunt Stefania.
Thoughts on D-Love
Characters – Stefania is the wife of the couple, she works a job she hates and has always been planning her life a certain way. She gets hit hard when she learns about herself while becoming more distant from the man she does love, her husband. Dan is the husband, he has been mourning his parent's death with drinks closing himself off from the world, D-Love helps him get through his problems and start wanting to follow his dreams again, with his cooking dreams. The two do feel like a natural couple with real problems. D-Love is a stranger the couple meet at the airport, he is heading East, but ends up staying with them, showing them his free lifestyle he accepts, following dreams not having a plan for life, he helps Dan get through his struggles and tries to show Stefanie a new vision of life.
Performances – Elena Beuca gives us a truly moving performance, she shows her characters struggles with every emotion she gives through the film. Elena also deserves the credit for her work behind the camera as the director she knows how the capture the character's emotions through the tough moments. Dave Rogers gives us a strong performance through the film, he knows how to draw the best emotions he needs to for each scene. Ditlev is strong too, he doesn't go full hippie with his other world visions that his character requires.

Story – The story follows a married couple who are dealing with problems that could tear them apart with how they both deal with death in their family. They get a mysterious strange enter their lives who helps guide them through the problems, we get to see if he can have the impact on their lives to help them through the problems or not. This story does keep everything feeling grounded for the couple and shows problems that could happen for anybody in the world.
Settings – The settings are mostly in homes or workplaces, this shows how everyday lives are holding the people back from escaping the problems they would be facing.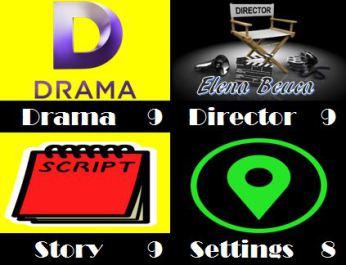 Scene of the Movie – The Tree.
That Moment That Annoyed Me – Not quite sure what Stefania job was.
Final Thoughts – This is a true life drama that shows the struggles life can throw at you and how you will need the loved ones to help you through them. We have great performances throughout and we go on a healthy rollercoaster ride of emotions.
Overall: Emotional Rollercoaster.
Rating

Advertisements
&b; &b;