I've never been a big fan of fresh plums.  I have always wanted to like them, little orbs of summer that they are, and occasionally would try one or two from the fruit drawer in the fridge where my mom stored them.  Like the peaches we got, they always disappointed, but we also knew that the produce that made its way to our local grocery stores was also the most lackluster.  But even now, when I'm able to grab a few from a farmer's market (so, as tree-ripened and as sweet as one could hope for), I never have any desire to eat them raw.  Cooked, roasted, baked, simmered, or jammed, however, they're, at least for me, perfectly irresistible.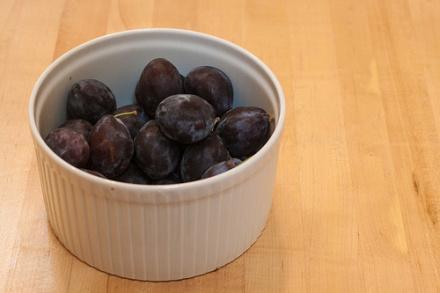 Over ten years ago now (ugh) when I lived in the Czech Republic, I soon learned that plums were such an important fruit there that different words existed for the different varieties–to a Czech's mind, then, an Italian prune plum and a sugar plum are perhaps as different as a peach and a nectarine.  And that late-summer-to-early-fall Italian prune plum is the key component to a whole range of delicious things:  from slivovice (plum brandy) to povidla (plum butter) to plum dumplings.  I've made the first two from that list, and have long been meaning to make the final entry.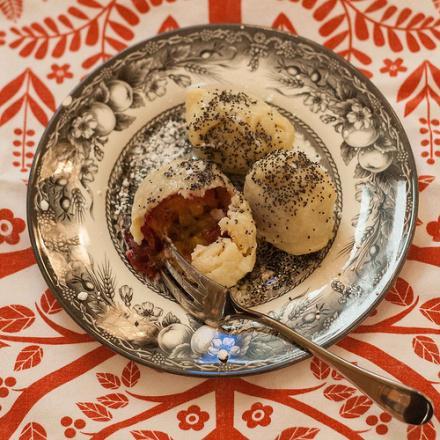 I've made them before, in fact, but not on my own.  The village I lived in for one year as an English teacher had previously housed a Czech language school for foreigners.  During the old communist days, students came from the so-called "nonaligned" countries to study at Czech universities–usually technical subjects like engineering–but needed an intensive crash course in Czech before they started.  Hence they lived in language school's dorms for a year before they were off to Prague, Brno, or other Czech university towns.  Today the institute runs preparatory courses (for Czech students) to prepare them for their college entrance exams.  If I remember correctly, you sit for an exam in the program of your choice–medical, legal, general studies.  If you don't get in, you can come to this program and spend another year preparing to retake the exams.  (Yeah, no pressure). Anyway, "Cestina pro cizince" (Czech for foreigners) is no more, but one of the program's teachers, Alena, still live in the town–and lucky for me, she took me on for lessons.  Not bad to have "CSL" ("Czech as a second langauge?) teacher with twenty years of experience introducing you to the insanity that is Czech grammar. Since I was there in the evenings, Alena also took it upon herself to make sure I had a good grounding in Czech food.  She was one of those people who can whip up any number of things from scratch (of course she was!) and while I sadly must admit I haven't retained all that much, I do remember making these dumplings with her.  A big bowl of blue-purple oval fruits, tvaroh (Czech "farmer's cheese", also known as quark), milk, flour, and butter.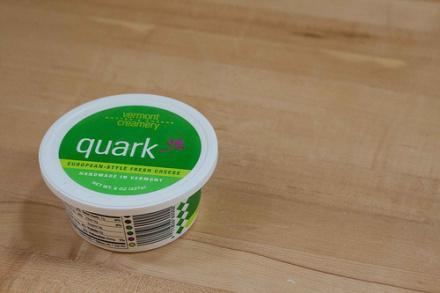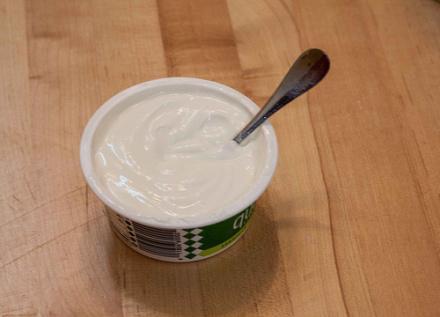 First we mixed and kneaded the soft pillowy dough–me and Alena by hand, today me and little H with the stand mixer–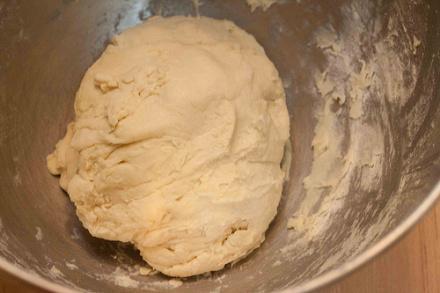 An assembly line was set up, and we wrapped each fruit in its own little package–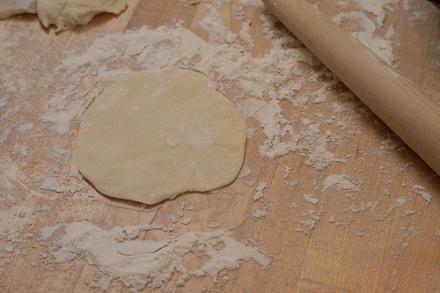 moistened the edges to create a seal–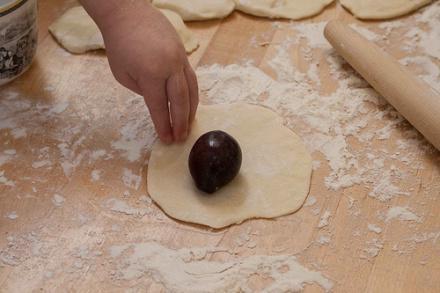 and set them aside while we waited for the water to boil.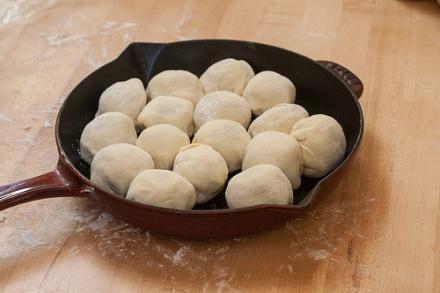 We slipped them into  boiling water to poach, and a few minutes later, carefully fished them out, hot and slippery.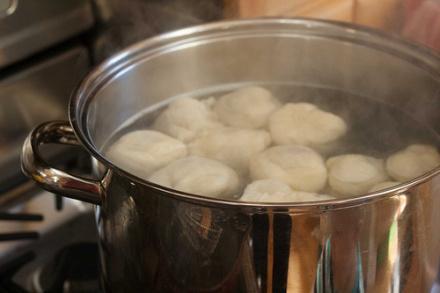 Drizzled with butter, powdered sugar, and poppy seeds.  My favorite type of lesson about culture–via the stomach.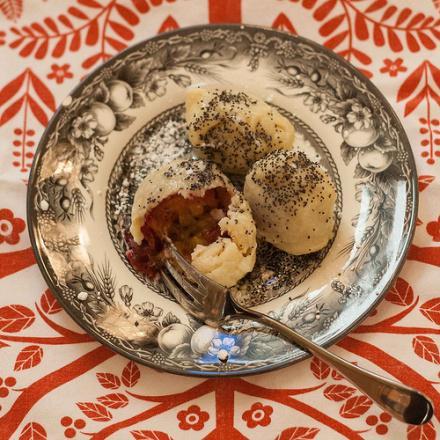 Note:  you'll notice that it took me a while to get this post up as these plums, even if early fall fruits, are no longer in season. However, you can use other fruits so you don't have to wait until next September.
Czech Plum Dumplings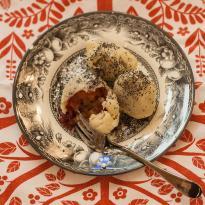 Print
Recipe type:
breakfast, dessert
Cuisine:
Czech
Serves:
4-6
Ingredients
2T butter, softened
1 egg
½ cup "pot cheese" (farmer's cheese, quark, tvaroh, tvarog).
pinch of salt
2 cups cake flour or a combination of cake and regular flour. (I used 240g cake and 30g regular flour).
¼ cup milk
1 – 1½ pounds fruit (prunes, apricots, cherries, apples or other firm fruit; I used 16 plums)
melted butter, poppy seeds, additional quark, and powdered sugar for serving
Instructions
Cream butter, egg and cheese together. It's OK if it's a bit lumpy. Add the salt, flour, and milk to make a medium firm dough. Depending on the firmness of your cheese, you may have to add more milk. Allow to rest for 30 minutes.
Fill a large pot with water and bring it to a boil while you make the dumplings.
Break off pieces and form into balls–you'll want 16 or so. Let rest 15 minutes to allow the gluten to relax. On a floured surface, roll dough out into rounds and place a pierced fruit in the center. Dab the edges of the dough to create an adhesive edge, wrap around the fruit, and pinch together, sealing the edges well. Set aside on a floured surface, sealed side down, while you make the other dumplings.
Gently slip into boiling water one at a time but as quickly as possible. Cook for 5-8 minutes turning once. Remove with a skimmer or slotted spoon.
To serve, tear open a dumpling with two forks, and drizzle with melted butter, more cheese, poppy seeds, and powdered sugar
3.2.2124