Who remembers the Clarins 3 dot eyeliner? Back in the day, before I had mastered the art of not getting liquid liner errrywhere it wasn't supposed to be, this was my go to eyeliner pen for it's ease of use. I was browsing the aisles of a drugstore in Florida at the end of 2017, where I came across CYO. I'd heard the brand was really popular and was coming to Boots, so thought I'd pick up some pieces to try out, including the CYO Three & Easy Eyeliner Marker Pen. ($6 / £4.50)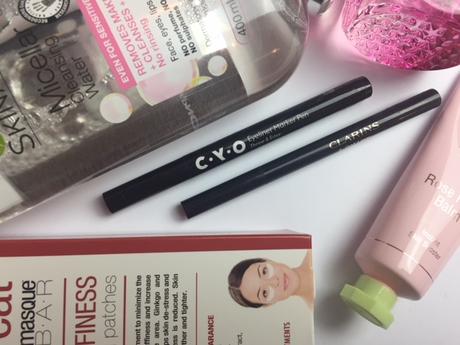 WHAT IS IT?
The idea of the three dot liner is to allow people to easily apply liquid liner by 'joining the dots' per se. The eyeliner has a wide applicator with three 'points' which 'stamps' (wahhh I'm bad with words!) three dots onto the eyelid. The idea being is you 'join the dots' and make your liner shape before filling it in.
UPDATE - I just checked the Boots website and apparently the idea is you use this in between your eyelashes to give the illusion of a dark water line and fuller lashes. - Four years I've been using it wrong!
Moving on..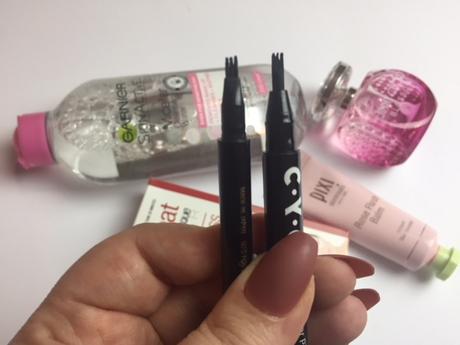 CLARINS 3 DOT LINER - £21
The Clarins 3 Dot Liner was a 'cult' beauty product amongst Bloggers for a while and rightly so! I loved using this to give me a 'guide' line without making a mess. I haven't used it in a while but was more than happy to dig it out to do a comparison between this and the CYO version.
The Clarins one has a short, wide applicator with three individual 'points'. This has a high pigment and isn't 'scratchy'. I can easily use this to fill in the shape of my liner and found it dried out after roughly 6 months which is pretty good going.
CYO THREE & EASY EYELINER MARKER PEN - £4.50
At $6 (£4.50) I wasn't expecting huge things from this, but the range has been buzzing amongst other bloggers so I was excited to try it out (If I'm honest, I kinda hoped this range would be a good colourpop rival).
The CYO version has a taller, wide applicator which has three 'points' on it. It differs from the Clarins one because the three points are all banded together, whereas the Clarins ones are separated.
I had to dot this a few times just to get some product out, which was very faded. I continued regardless but I must admit this was incredibly 'scratchy' and I was unable to use it to fill in the (already faded) eye line. If I was simply using this to fill in the spaces between my eyelashes, this would probably be a tad better but to me, this felt like a very old, dried out eyeliner.
For me, it wasn't worth the $6! I've genuinely used better liquid liners from Primark at £1.50 and I was really disappointed with it. I also bought a foundation, blush and eyeshadow from the range, so if you'd like a review on them, do let me know in the comments below.
OVERALL
Ding Ding! Clarins wins. Sorry CYO, I really wanted to like this product but it just wasn't for me!
Have you tried any of the CYO products? Let me know what you'd recommend in the comments below! It's a really affordable brand that I'd love to love!
H x