Kids face a lot of dangers while on the internet. Having them know to take the proper precautions while on the internet can help you keep them safer. Not only have children been deceived and robbed through the internet, but they also have given away a lot of important information for the other party to use against them and their families. Some of the problems that we face through the internet are listed below. Ensure that you talk to your children about the proper etiquette to use while on the internet.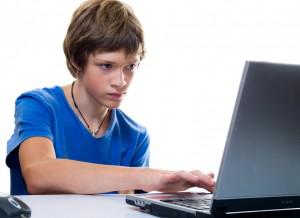 Cyberbullying can occur in many ways
Cyberbullying is a leading cause for concern with parents and guardians alike. Not only can cruel words make their way around a school or social area, but the child caught in the middle of cyberbullying can be potentially emotionally scarred due to this foul play. Not only is cyberbullying becoming more of a problem, but it is also gaining more awareness throughout the world.
New Adult websites are created every day
Adult websites are plentiful and sometimes are on normal websites that children would normally frequent. Pop ups are a concern since they do not see their audience and come and go as they please. Having the proper child locks and restrictions on your computer can ultimately limit the amount of adult websites, pictures, or text that your child sees while using the computer.
Kids can't always judge what's appropriate to post online
Kids sometimes do not know better and choose to share information through the internet with other people. This can be a problem since there are dishonest people on the internet that will use that information against you and your child. In order to protect your child against this; you have to make sure to teach them what to give and not to give while on the internet.
There are predators that lurk in chat rooms waiting to talk to children. This is a common problem that is found and one to many have found themselves in the wrong situation at the wrong time. In order to protect your child from this foul play; you should limit the amount of time they spend on the internet, while also teaching them of the dangers of the internet. Letting them know that their personal information should not be shared over the internet can help. These people will find ways to get your child to tell them just a little more, but if your child is properly informed of the dangers there is less of a chance of them getting through to the child.
Brian Lawson is a frequent guest speaker at schools and other civic groups where Internet safety issues are discussed.  He has worked with experts to create a free parental control software solution called Action Alert.  Action Alert and other Parental Control technology is important to keep kids safe from online dangers.