Cute as a Button Baby Diaper Nappy Changing Bag Set. The fashionable vibrant design with plenty of space to carry all the necessities. The changing bag set was sent to me from Premier Trader UK.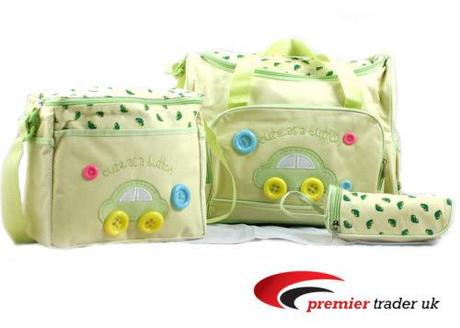 The large bag has a front zipped pocket, a back pocket and 2 open side pockets. It comes with a carry handle and an adjustable shoulder strap, which can also be used for pushchairs. The small bag also has an adjustable shoulder strap, as well as an open front pocket and 2 side mesh pockets. The bags come complete with a zipped bottle holder/warmer and a waterproof changing mat.
It has numerous sections so plenty of storage which is handy with a little one with the amount of things we have to carry and as an added bonus the bag is also water resistant which is perfect especially if you spill anything on the bag then it will remain dry.
The Changing bag set is reasonably priced and is unisex so will be a great overall purchase. I would highly recommend purchasing this product.
The lovely people over at premier trader uk  are also offering all The Real Supermum readers 10% of any purchases, just quote 'Supermum' at the checkout.