In my short time in North Carolina, I've noticed a stark difference in styles than what I was used to in south Georgia.  While it's almost just as hot, there's less humidity and more breezy days that call for a few wardrobe alterations.  A mixture of free-flowing fabrics, crisp lines, and punches of color should do just the trick.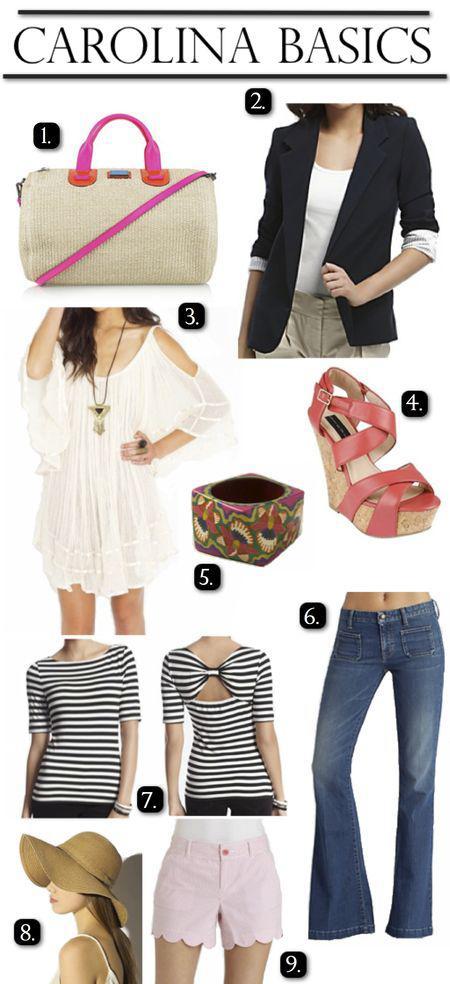 1. Simple Hold-all: By Meredith Wendell.  Large Leather-trimmed Raffia Duffel Bag.  $595.
2. Casual Blazer: Aqua.  Fitted Girlfriend Blazer.  Shown in Navy.  $88.
3. Too Short Dress: By Jen's Pirate Booty tunic on Nasty Gal.  $108.
4. Chunky Color: Steve Madden.  Wizzard wedges.  Shown in coral.  $140.
5. Bohemian Bangle: Anthropologie.  Mopa Mopa Bangle, Flower.  Shown in pink.  $298.
6. Throwback Denim: Guess.  70's Relaxed Flare Jeans.  Shown in Love Call Wash.  $108.
7. Sexy Stripes: WHBM. Striped Keyhole-Back Tee.  $48.
8. Shade from the Sun: Urban Outfitters.  Pins and Needles Basic Straw Floppy Hat.  Shown in neutral.  $29.
9. Scalloped Shorts: Lilly Pulitzer.  Buttercup Short Seeksucker.  Shown in Hotty Pink Holiday.  $68.
[Author's Note: Please don't get used to seeing Lilly on 4GG&G.  She's a little too country club for my everyday taste.  Sorry Greeks.]