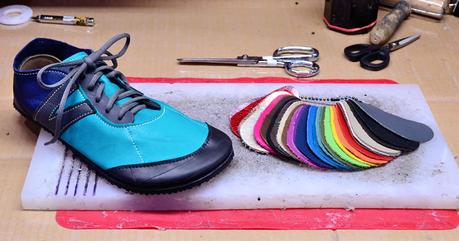 Every year, our staff here at Softstar designs new "collection colors" for our various shoe styles. These are preset color combinations for our shoes that we will offer on our website for the next year. Though these color combinations are beautiful, sometimes our customers have a specific color combination in mind that is completely their own... and we can make it happen. The majority of our shoes for kids and adults are customizable, meaning we offer a wide variety of leather colors to choose from for various parts of the shoes. We love offering custom colors because it allows our customers to design their own dream shoes and express their unique personalities.
We created what we call "visualizers" for our customizable shoes. These are interactive tools on our website that allow customers to play around with different combinations of colors for our shoe styles and see how they will look before they are made. Examples of customizable options include the front and back of most shoes, Velcro strap colors for kids, trim and motifs, colored laces and more!
Want to have some fun and design your own pair? Read on!
How to Customize a Shoe
Click on the category of shoes you would like to customize by using the category menus our website. For example, this could be "Athletic" under the Adult Shoes tab, or "Child (ages 1-5)" under the Kids Shoes tab.
If you see the RAINBOW SWIRL symbol in the top right hand corner of a product image then it means the shoe style is customizable and you can choose your own colors!


Once you click on the product, you will see a purple horizontal button on the right side of your screen that says "CUSTOMIZE YOUR COLORS" with the same rainbow swirl symbol. Clicking this button will lead you to the custom page where you can experiment with all sorts of fun color combinations.


Depending on the style of shoe you are customizing, there will be various parts available to customize. For example, on a pair of Ballerine flats you can choose the color of the body, the heel, the trim, and whether or not to add an elastic sports strap. For a children's sandal, you can choose the front color, back color, Velcro strap color, and motif. All customizable options will be listed in dropdown menus on the right of your screen.


Once you have selected all of your desired colors and motifs (when applicable), all you need to do is select your size and place your order! We will get to work on your personalized shoes right away.

Favorite Color Combinations
Here at the Softstar workshop, we LOVE seeing the custom color combinations people come up with for their shoes. It definitely keeps us entertained. We surveyed some of our elves to find out what their favorite color combinations are for various styles. Here are some of their answers:
Elf Elizabeth's favorite combination for Ballerines is Tahiti for the body, Suede Emerald heels, and Teal trim!
Elf Molly loves Classics or Sandals for kids in Aged Whiskey with Shiny Copper straps and motifs.
Elf Tory's favorite is the Dash RunAmoc with Vegetable Tanned Cocoa on the front and sides, and Aged Acorn on the back.
Elf Ali loves Solstice Sandals in Black with a Turquoise flora motif!
Elf Martin's favorite combination for Primal RunAmocs is Pacific on the front and back with Burgundy sides and black eyestay and laces.
Customizable styles for kids include Ramblers, Classics, Sandals, suede and smooth Roo Moccasins, Merry Janes, North Stars, and Phoenix Boots.
Customizable styles for adults include Dash RunAmocs, Primal RunAmocs, Ballerines, Solstice Sandals, Merry Janes, smooth and nubuck Moccasins, and Ramblers.
Every week we highlight a different Custom Shoe of the Week on our website and social media pages to give our followers inspiration. Here are some examples of recent favorites, but you can view the entire history of the shoes that have held this proud title on either our Custom Shoes Facebook Album or Custom Shoes Pinterest Board.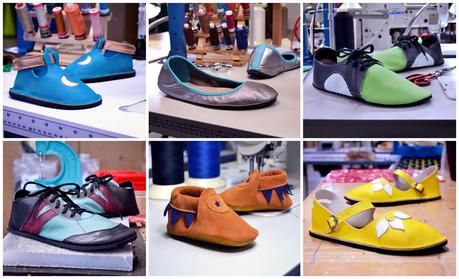 What are some of your favorite color combinations? Let us know in the comments below!