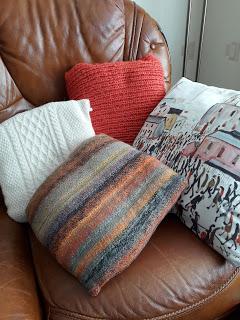 My recent travels have included some out of the way places and destinations I may not have the opportunity to revisit. It has been important to me to collect meaningful souvenirs, so as well as buying a touristy tea-towel from the Isle of Barra's airport on the beach I have some beautiful sea-shells from many Hebridean shores and it was my mission to buy authentic knitting yarn and Harris Tweed cloth at source. I obtained plenty of both and I have enjoyed knitting memory cushion covers from wool that I watched being spun.
Most of my cushions are special. There's the one making an embroidered statement of 'Love is all you need…', a treasured gift from my husband, and a comfy, soft fabric L.S.Lowry print of 'Going to Work', a treasured gift from a close friend. When I couldn't bring myself to discard some old balls of wool from a sweater that my late mother had made, didn't like and unravelled, I knitted a cushion cover with it. Something of my mum's recycled into a useful and loved item. She would be proud. I'm in the process of fashioning a cushion cover using a piece of my late aunt's unfinished knitting combined with my own. It's working out very well. If you've read my previous blogs and I've left you thinking that my house is a museum of relics from dear, departed relatives and I can't be separated, well no, it's nothing like that, I'm just saving significant memories.
There's a cushion in a box upstairs waiting to be rehomed. It's part of a birthday present for my eldest granddaughter and as she adores Minnie Mouse, I know she will love this big cushion of Minnie's head, made by Disney.
Here's a new poem from me,
Red Cushion
How lovely to see you! What a surprise!    A flying visit?That's just fine, my dear.
   Yes, I've really been under the weather,
   But I'm fine and it's great to have you here.
It started with leg pain and weariness,    And my blood count is too low on the scale.
   Just thinking saps all of my energy
   So I remain in repose, ill and pale.  
   Pass me a cushion, that red one will do,
   Just the knitted one, not the crimson plush,
   And before you go, please close the curtains
    If you don't mind, unless you need to rush.
Of course it's red, what else would you call it?    An orangey coral? Don't be so daft!
   It's a red cushion, if ever there was.
   Made by Mum and me, a joint handicraft.
Pillar-box or cardinal, let me see.    Scarlet it isn't, nor vermillion.
   Nowhere near ruby or blood-red maroon,
   Oh can we just call it the red cushion?
I'll draw the curtains if you need to dash.    Thank you for calling, it's nice to see you.
   The flowers are lovely, you've made me smile,
   I'll be much better next time you come through.
PMW 2019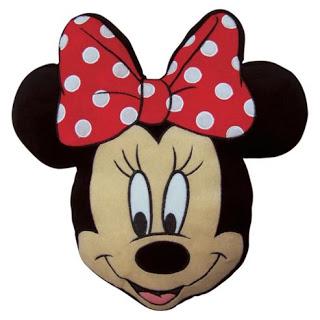 Thanks for reading, Pam x    
Email This
BlogThis!
Share to Twitter
Share to Facebook
Reactions: