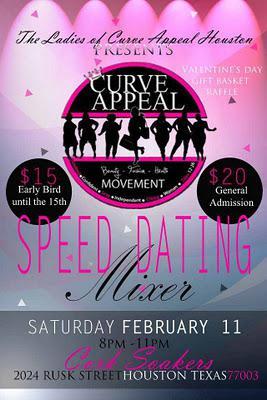 On Saturday, February 11, 2011- Curve Appeal Houston is hosting a Speed Dating Mixer from 8pm to 11pm at Cork Soakers.  See the above flyer for information.  Click on it to go to the Facebook Event page
.
TICKETS CAN HE PURCHASED HERE.
Come out Curvy Ladies and Gentalmen that Love Curvy Women and have a Fun filled evening.
Early Bird Special is $15.00 dollars and available until the 25th. After the 25th tickets are $ 20.00 dollars.
Ticket purchase includes one drink ticket and appetizers.
This events will be a great to make new friends,socialize, and meet the Ladies of Curve Appeal Houston!