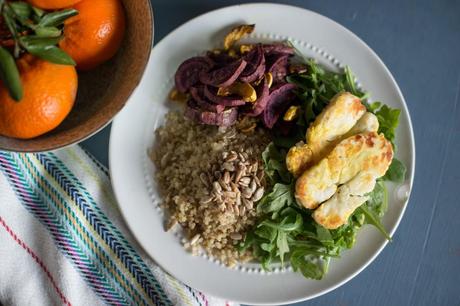 We love Bon Appetit, and we always skip a bit when one of their glossy magazines arrive at our mailbox. Their most recent issue inspired us to embrace winter by pulling together a variety of warming and flavorful ingredients. This Curried Quinoa Plate is an adaptation of a Bowl recipe they shared. Why did I put it on a plate? Well, it photographed a lot better (to be honest). So you're more than welcome to enjoy this on a plate or a bowl. The curried roasted vegetables, the toasted sunflower seeds, and our new favorite cheese (halloumi) make for a flavorful and unique lunch or dinner meal.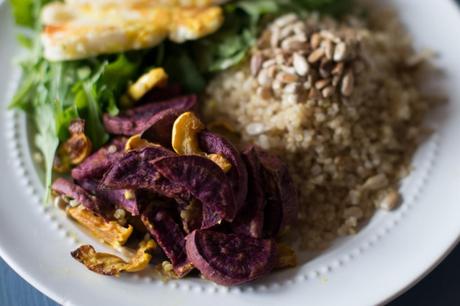 Grains: two cups of cooked quinoa or brown rice
Roast Veggies: Dice up purple sweet potato and delicata squash. Toss with 1-2 tablespoons olive oil, sprinkle with salt and pepper and a dash of curry powder. Roast in 425 F oven until tender.
Sunflower Seeds: In a medium skillet, heat 2 tablespoons olive oil. Toss in 1/2 cup raw sunflower seeds and cook until golden and crisp (save oil for cheese).
The Cheese: Griddle sliced Halloumi cheese in leftover oil until golden.
Dressing: Mix 1/4 cup tahini, 3 tablespoons lemon juice, 2 tablespoons olive oil, 1/2 teaspoon ground tumeric and salt/pepper to taste
Greens: Arugula works well or thinly sliced heartier greens (kale, collards) that have been tossed with apple cider vinegar to to moisten and tenderize.