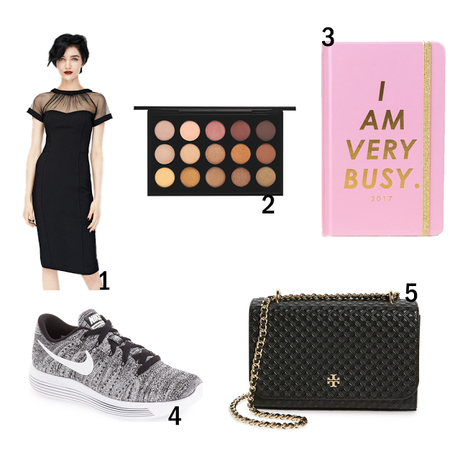 01. Maggy London Illusion Yoke Crepe Sheath Dress
I was browsing for dresses that I can wear to an upcoming wedding in November and I think this Maggy London dress could be perfect! I love it in black, and I think it looks so sophisticated.
02. MAC 'Warm Neutral Times 15' Eyeshadow Palette
I saw this MAC palette on the Nordstrom website and I realized I need to have it! I'm all about neutral shades and these are all so gorgeous.
03. Ban.do - I Am Very Busy 2017 Agenda
I'm in need of a new planner, and this one is so cute. I can imagine this at my desk at work! I love it in pink but I wish it came in all-gold!
04. Nike 'Flyknit Lunar Epic' Running Shoe
I need new running shoes and these Nikes are giving me life! I love the pattern. I can see myself buying these but thinking they are too pretty to go running in.
05. Tory Burch 'Shrunken Marion' Embossed Leather Shoulder BagThis bag would go perfect with the Maggy London dress. I have a huge Michael Kors bag that I love, but I think its time for a smaller bag and this one is perfect.