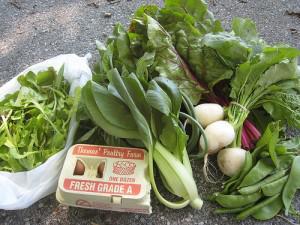 After reading a couple of articles about current food trends here are a few fascinating ones.  Hopefully one will spark your interest and you will start following the trend.
Eating from the bottom of the food chain: This idea is so intriguing- it seems a little out there but it also makes sense sustainability wise.  Serving krill and grasshoppers as menu items seems gross, but at the same time sounds fascinating.  As long we don't wipe out the bottom of the food chain with this new trend, it could be more sustainable since it is more efficient.  Eating from the bottom means you are getting all those nutrients and energy directly from the source without it being diluted throughout the food chain until you get to higher species- such as pigs, cows, and chicken- and then consuming those sources of energy.
Food swaps: Food swaps are pot-lucks on steroids.  Swapping food amongst neighbors and friends is now the hip thing to do.  This goes beyond the basic meal- it extends to garden produce and canned staples. The idea of a crop swap has been around for ages, it is basically the trusty old barter system, but in recent generations the idea seemed to be forgotten, until recently.  Now crop swaps are making a come back, just like freedom gardens should.  This is more sustainable since it is kinder to your wallet and making/growing food at home is always cheaper than going to a store.  Also, with swaps you are able to get more goodies since you make one dish and you get multiple in return.
The Growing Community Supported Agriculture (CSA): CSAs are becoming more well-known, causing their demand to grow, and allowing niches to develop.  Now instead of just being available in the summer months, many CSA farms are now offering winter shares.  Some farms are even offering other goods outside of produce such as milk, meat, cheese, eggs, bread, juice, etc.  There is even a coffee CSA (which connects you with the farmer so you can make sure they are growing their coffee sustainably) and grain CSAs are growing.
Root-to-Stem Cooking: Using every bit of food is more sustainable since the waste is eliminated.  Currently there is a push to use previously unused items in dishes.  This example is taking after the nose-to-tail ideology when butchering an animal.  It seems like this trend has been a long time coming.  There are examples of people using watermelon rind and peach leaves in dishes when previously these items were thought of as trash.
[Image source]