With Spring in full swing, I've been transitioning some of my makeup and skincare bits to suit the warmer weather. I've discovered some new favourites and fallen back in love with some old classics as well.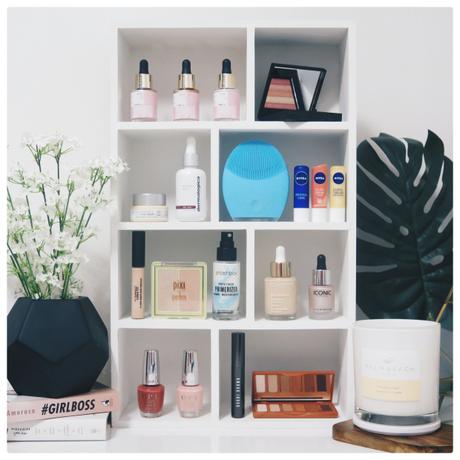 MECCA MAX LIQUID LIGHTS - The in house brand has introduced some lovely glow products and these liquid illuminator can be used without makeup, mixed with a primer, used as a highlight and more. Coming in 4 shades, they have a lovely smooth consistency and a metallic finish. I'll be doing a full overview of the collection soon.
BOBBI BROWN SHIMMER BRICK - An extremely versatile product, I've been using my Nectar Shimmer Brick as a highlight, blush topper and eyeshadow! It provides some shimmer and lovely pink pop of colour to the face for that healthy Spring glow.
DERMALOGICA BIOLUMIN-C SERUM - I've been testing this serum out for a couple of months now (I use this in the evenings and another serum in the morning) and I do think this is a really effective vitamin c serum. It has a water light texture and subtle citrus scent. I feel that my skin is brighter and overall more even. The serum is said to also firm and reduce the appearance of lines and wrinkles. I'm perhaps a bit too young to notice a difference in those departments but I am in love with this serum.
FOREO LUNA 2 - This skincare device has been a constant favourite of mine, ever since I got it. It cleanses the skin so well and helps skincare penetrate more effectively. I have a full review here.
NIVEA ORIGINAL CARE, FRUITY SHINE & PURE AND NATURAL LIP CARE BALMS - My lips became a bit dry this winter so I've been treating them with a good loving of lip balm. Most recently, I've been using the NIVEA lip care range. I use the Original Care before applying a lip product in the morning, the Pure and Natural Milk and Honey version in the evenings before bed for some extra repair. Thier latest addition to the range, Fruity Shine Peach has a gorgeous soft peachy-coral tint with a super finely milled shimmer in the formula to give a blush of colour, shine and gloss to the lips. I keep this one in my handbag for touch ups during the day.
MAC STUDIO FIX 24HR SMOOTH WEAR CONCEALER - I was lucky enough to trial this concealer ahead of its official launch and I'm in love. It's got a great consistency and coverage, hiding my dark circles. It lasts well throughout the day and doesn't cling to any dry patches under my eyes.
PIXI BY PETRA GLOW-Y GOSSAMER DUO - After seeing Tati rave about this highlighter duo, I was so excited to try it out! It has a light creamy texture (though it is a powder product) and delivers on the most beautiful shimmery highlight.
SMASHBOX COSMETICS PHOTO FINISH PRIMERIZER - This primer and moisturiser in one has a gorgeous, light gel-cream consistency that glides onto the skin to hydrate, smooth and prep the skin for foundation. As I have dehydrated skin, this primer evens out my skin's texture and creates a lovely base to work on.
CLARINS SKIN ILLUSION NATURAL HYDRATING FOUNDATION - A new foundation I'm currently testing out, it features a soft floral scent and thin consistency that can be worked onto the skin with a brush or your hands. It provides a nice light-medium coverage with an incredibly natural finish. As a hydrating foundation, it hasn't clung to any dry patches I have, nor has it become flakey on the skin.
ICONIC LONDON ILLUMINATOR - As you might've gathered from the other highlighters featured in this post, I'm all about that highlight and glow at the moment. I have a full review of this product here.
OPI NAIL POLISHES - I've really fallen in love with OPI nail polishes. There's an amazing range of shades but the quality is what really stands out. I can go over a week without any chips and the polishes maintain their initial shine and smooth finish, even a week on.
BOBBI BROWN INTENSIFYING LONG WEAR MASCARA - Featuring a thin, small brush (think a skinny brow spoolie), this mascara delivers on length and volume, making it a great everyday mascara that offers a soft, fluttery finish. It lasts all day without any smudging.
URBAN DECAY NAKED HEAT PETITE EYESHADOW PALETTE - This beautiful warm toned palette has the same high quality as the other Naked eyeshadow palettes. I love how compact it is and the warm, rust tones are surprisingly easier to wear than I thought! They blend out nicely and last well throughout the day.

| Bloglovin' | Facebook | Twitter | Instagram |
*These products were kindly provided. As with all my posts, it is 100% honest and of my own personal opinion. For more information, visit my Disclosure Policy.