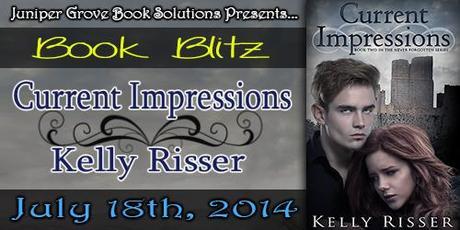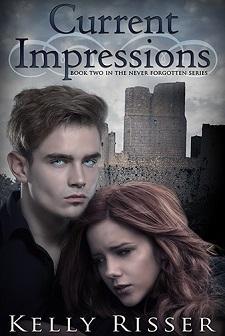 Title: Current Impressions
Series:Never Forgotten #2
Author: Kelly Risser
Published:July 18th, 2014 by Clean Teen Publishing
Word Count: approx. 82,000
Genre:NA Paranormal Romance
Recommended Age:13+
Synopsis:
After an emotionally draining year, Meara Quinn is not the same carefree and innocent girl. Graduation is over. Taking a leap of faith and temporarily separating from her one love—Evan—Meara joins her father on a journey to learn more about who she is.
Too bad life is not all starfish and seashells. Meara gains magical abilities, but she's forced to undergo intense training so she knows what to do with them. Her father chooses her aunt and Kieran as her trainers. And Kieran—a powerful male who's not from their clan—has the unnerving ability to infuriate and intrigue Meara at the same time.
While Meara begins her new life, Evan endures with her memory and the knowledge that he will see her in July when his internship begins. Although excited about gaining real world experience, it's the thought of seeing Meara that really drives him. Unfortunately, Evan finds it hard to focus on anything when he's suffering from vivid nightmares and screaming headaches.
When Meara and Evan reunite, everything seems to fall back into place. The summer appears to be perfect. Then two of her father's guards are found dead, and foul play is suspected. The façade melts away. Someone is targeting them, and Meara must discover who it is and why. She turns to Evan to help her, but when he gives her the hot and cold treatment, she's left feeling alone and confused.
As the puzzle pieces move into place, will Meara be able to solve the mystery in time to save her clan and her relationship?
Goodreads
Current Impressions Excerpt  – Evan's Dream
 Bits of blue flashed in the corridor as she ran. The rest of her dress blended into the shadows. She's fast, Evan thought and struggled to keep up with her.
"Meara, wait!"
She turned a corner. When he lost sight of her, the walls began to close in and pain pierced his brain. He clasped his head and ran. She was here. He would find her.
He turned the corner and once again caught the flash of blue ahead. He sped to catch up. She was quicker than he remembered. She ran with a strength and grace he never noticed. Still, he was faster, stronger. She glanced back over her shoulder as the distance closed between them. He reached out with a hand to grab her arm. His fingers grew into talons and cut angry, red strips into her flesh.
"Get away from me," she screamed. She sunk to the floor and wrapped her arms protectively around herself. Thin, red trails coursed down her arm. With the realization that it was his fault, his veins frosted over. He did that. Hurt her. Hadn't meant to. Hands. What happened to his hands?
He held them out. They shook, but they were only hands, not talons. Had he imagined the whole thing? No, or her arm would be fine.
"I'm sorry," he said. "I didn't mean to hurt you."
"Just go away," she cried. She hung her head, her hair falling in a riot of curls. It couldn't hide the tears that shone on her cheeks or the fear in her eyes.
"Meara, it's me." He moved to crouch before her. She shot up and pressed herself against the wall, turning her face away from him.
"I said get away from me!" she screamed.
"Meara—"
Her scream cut through him, doubling the piercing pain in his head. What the hell was the matter with her? Why was she afraid of him?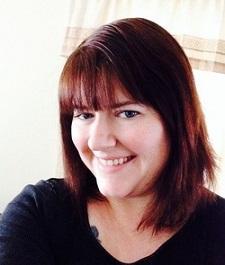 About the Author:
Kelly Risser knew at a young age what she wanted to be when she grew up. Unfortunately, Fairytale Princess was not a lucrative career. Leaving the castle and wand behind, she entered the world of creative business writing where she worked in advertising, marketing, and training at various companies.
She's often found lamenting, "It's hard to write when there's so many good books to read!" So, when she's not immersed in the middle of someone else's fantasy world, she's busy creating one of her own. This world is introduced in her first novel, Never Forgotten. Never Forgotten, a YA/NA Fantasy, will be released by Clean Teen Publishing in the Summer of 2014.
Kelly lives in Wisconsin with her husband and two children. They share their home with Clyde the Whoodle and a school of fish.
Amazon Author Page
|
Facebook
|
Twitter
|
GoodReads
|
Pinterest
 |
Website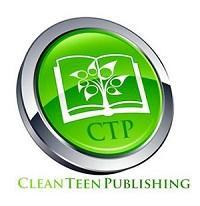 Clean Teen Publishing Links:
Website
|
Blog
|
Facebook
|
Twitter
Giveaway Details:
There is an international tour wide giveaway. Prizes include the following:
Reader's choice of Clean Teen Publishing eBook and bookmark swag pack.
a Rafflecopter giveaway