New to little Indiana? Subscribe for free to my RSS feed. Thanks for stopping by!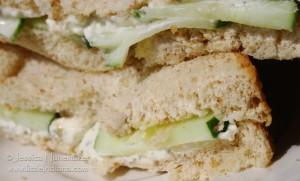 Cucumber Sandwich Recipe
This cucumber sandwich recipe is your solution to an over-abundance of fresh from the garden cukes! Been there, done that, right?
I fussed around to create this winning combination using my farmers' market find. It's a fast to fix filling for your cucumber sandwich.
While it is an easy recipe to whip up, try to give yourself plenty of time! The flavors need to sit in the fridge and meld together. Make the filling the night before if possible.
Cucumber Sandwich Recipe
1 8. oz block of Cream Cheese, softened
1/2 cup Mayonnaise
1/2 teaspoon dried Dill (to taste), less if using fresh
1/2 teaspoon  Garlic Powder (to taste)
Cucumber, thinly sliced
Bread
Mix together the cream cheese, mayonnaise, dill, and garlic powder. Place into fridge for a few hours or overnight.
If you don't plan on waiting too long before you eat these, it isn't necessary to salt the cucumber. If, however, that is the plan: Thinly slice the cucumber and lightly salt. This will help take out the water and keep you from having mushy cucumber sandwiches!
Eat and Enjoy
Since it is made with dairy products, you probably don't want these fast to fix tea sandwiches to sit outside on a table all day. However, for short little jaunts or a light summer meal? I think this Cucumber Sandwich recipe is pretty much perfection.
Find photos of Cucumber Sandwiches and other pictures in Indiana on my Flickr photostream.
little Indiana: Where to Stay, Play, and Eat in Small Towns in Indiana. Discovering Indiana's best small towns! Now get little Indiana on your Kindle.
New! Offering affordable online advertising for your small Indiana business! little Indiana Businesses is the online presence that you've been looking for.