New to little Indiana? Subscribe for free to my RSS feed. Thanks for stopping by!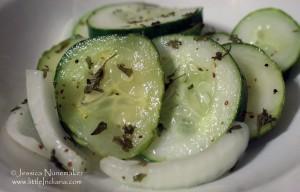 Cucumber Salad Recipe
Cucumbers coming out of your ears, too? Apparently the drought hasn't affected them one bit!
With cucumbers coming at me from neighbors and friends in all directions (how cool is that?), I've had to dig up cucumber recipes to use them up. Cucumber Salad, or as they call it in the old 1964 Home Economics Cookbook, Cucumber Cooler, it is one of those that I always forget about–but love just the same.
This one tastes best if you let it chill for a couple of hours before digging in. Just remember to give it a good stir every now and again. Very refreshing on a hot day!
Cucumber Salad Recipe
Print Cucumber Salad Recipe
Rating: 51
Prep Time: 10 minutes
Total Time: 10 minutes
This comes from a very old cookbook, "Favorite Recipes of Home Economics Teachers: Salads, Including Appetizers" Favorite recipes Press, Inc. 1964.
Ingredients
1/4 Cup Vinegar
1 Tablespoon Lemon Juice
1 teaspoon Celery Seed
2 Tablespoons Sugar
1 teaspoon Salt
1/8 teaspoon Pepper
1/4 teaspoon Onion, Chopped
2 Tablespoons Parsley, Chopped
3 Medium Cucumbers, Thinly Sliced
Instructions
Mix ingredients together. Chill.
Stir every so often while chilling.
Notes
In the case of sour cukes, add a bit extra sugar.
Schema/Recipe SEO Data Markup by ZipList Recipe Plugin2.0
http://littleindiana.com/2012/08/cucumber-salad-recipe/
Photos are the Property of little Indiana. Do Not Use Without Permission.
Find pictures in Indiana on my Flickr photostream or on the new little Indiana Tumblr blog.
Just don't forget to tell 'em that  little Indiana sent you!
Don't miss a moment. Subscribe to little Indiana and receive instant updates to stay on top of everything "little."
little Indiana: Where to Stay, Play, and Eat in Small Towns in Indiana. Discovering Indiana's best small towns! Now get little Indiana on your Kindle.
Targeted. Relevant. Affordable! little Indiana advertising.