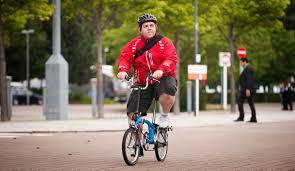 Starring: Nick Frost, Rashida Jones, Chris O'Dowd, Ian McShane
Directed by: James Griffiths
Synopsis: Beneath Bruce Garrett's under-confident, overweight exterior, the passionate heart of a salsa king lies dormant. Now, one woman is about to reignite his Latin fire.
I'm back! The first movie I have watched in over a month is Cuban Fury, and it was a pleasant watch!
Nick Frost, despite his limitations, is always a good presence in movies but cut adrift from Simon Pegg I wondered how he would cope. He did pretty well as it goes.
Cuban Fury is a fairly lightweight but entertaining British comedy, with some laugh out loud moments. It's not exceptional but it's a solid hour and a half entertainment. The cast are mostly used pretty well apart from Rashida Jones. The stand out's are the high camp of Kayvan Novak as Frost's salsa pal (Brit's will know Novak as the voice behind Fonejacker), and Chris O'Dowd as the sleazy, slimy work colleague. Ian McShane puts in a good shift as the grumpy ex-Salsa teacher and Olivia Coleman is always watchable. Rashida Jones was under used and is far more worthy than just acting as the love interest.
In the film, Frost plays Bruce, a one time Salsa prodigy who quits at the age of thirteen because of a bullying related issue. He hangs up his Cuban heels for good, until he discovers his new boss Julia (Jones) likes to dance. Being smitten with her, he gets the sequined shirt back out and embarks on a comeback of sorts. The only obstacles that stand before him are the weight he has gained after 25 years and his colleague Drew (O'Dowd) who is also after Julia.
There are some supremely funny moments in Cuban Fury, including a dance-off/fight between Bruce and Drew in a car park, in which you will see an extremely brief glimpse of Frost's pal Simon Pegg. My highlight was the camp Novak and his penchant for Fanta.
There isn't anything here that will set the world a light, but it's a solid, enjoyable enough film that was apparently a labor of love for Nick Frost. I think he can be fairly pleased with the result.