Cuban baseball is largely unknown to most American baseball fans. What most do know are the current crop of players from that island, like Yasiel Puig, Aroldis Chapman and Jose Abreu.
They all have fascinating backstories, and author Peter Bjarkman, one of Cuban baseball's foremost authorities in the US, has put together a fascinating look at the island's baseball history in "Cuba's Baseball Defectors: The Inside Story", which was released earlier this year by Rowman & Littlefield Books.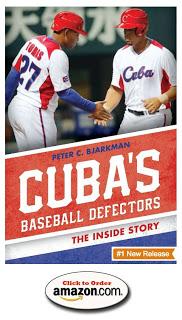 Bjarkman is the senior baseball writer for the web site Baseball de Cuba, and he takes the reader on the journeys of many Cuban baseball players through the years, those who left for the United States in search of greater riches, and those had stayed behind and became icons in their home country.
Bjarkman tells some incredibly fascinating stories of some of the most celebrated Cuban defectors (Leonys Martin's story in especially incredible), and it tells stories of kidnapping and drug smugglers from the Miami syndicate and Mexican drug cartels. The Cuban players keep on coming, and with the thaw in relations between the US and Cuba, the concern is that Cuban baseball will continue to decline (Bjarkman makes a comparison to the Negro Leagues after Jackie Robinson broke MLB's color barrier in 1947, and how that slowly went out of business by the late 1950s).
As a Red Sox fan, I read the Yoan Moncada and Rusney Castillo stories with particular interest. (Remember Castillo? The Red Sox would love to forget this tale.)
Bjarkman was given special access to baseball players throughout the island of Cuba, and you get a good reading on the day-to-day lives of those who play the sport for a living in the baseball-crazy country. He talks in great detail of Cuba's incredible record in international tournaments throughout its history (but doesn't have much use for the World Baseball Classic, as he believes it is just in business to bring more Cuban players over to the US and enrich MLB's coffers).
If you enjoy Cuban baseball, "Cuba's Baseball Defectors" is a book you must read. Bjarkman goes into some minute details about it, and at the end of the book lists not only the Cubans who have played in MLB since 1871, but has a comprehensive list of all players who have defected from the island since 1980.
There are plenty of stats, but there's even more intrigue and cloak-and-dagger stuff behind those men who left the country for various reasons to play ball in America.