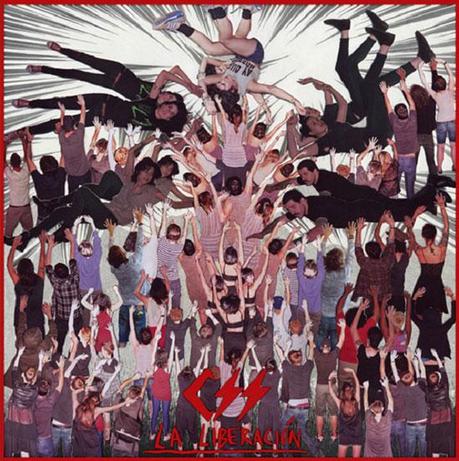 Hits Me Like a Rock – CSS
I'm 27, so it can be a little difficult for me to feel inspired by the tunes put out by today's super popstars. They are definitely targeting a different, decidedly younger demographic. But CSS have always taken those bubbly sounds and combined them with adult themes and language, so I can jump around in my room and dance while singing along to curse words and drug references.
The swirling synths of La Liberacion's first track "I Love You" make for an underwhelming, been there/done that opener, but things pick up on singsong-y first single "Hits Me Like A Rock." The next song, "City Grrrl" is the one that captured my heart. Lovefoxxx glorifies New York City by emphasizing the fact that no one gives a shit and claiming "in the big city, nothing hurts." While I can't necessarily agree with that, it only takes one breathtaking view of the NYC skyline from across the East River to make me feel better most of the time.
La Liberacion continues with eclectic sounds that branch out a little further than the electronic/dance bubble, most notably the beach-y rhythm guitar on "Echo Of Love" and the piano on "You Could Have It All." But the true gem of the album is the title track "La Liberacion." Performed in the band's native language of Portuguese, the track mixes grunge guitars with Lovefoxxx's signature shout-singing. It's only 2:12 long, but it displays the most growth for CSS, and it's the most fun to listen/dance to.
The snarky lyrics on La Liberacion seem a bit forced at times. These days, it's not so shocking to have a song titled "Fuck Everything" but it's still fun to say. It also goes without saying that girls will most certainly find this album more enjoyable than boys. While lyrics like "You could have it all but then what's left of me?" and  "Fix me with a kiss" might seem like products of insanity to the male members of our species, every girl has experienced these sentiments.
While CSS still haven't recaptured the magic they achieved on 2006's single "Music Is My Hot Hot Sex", there is no doubt that they still have the same talent. Hopefully they will stumble on something just as good sometime soon. Hey, at least La Liberacion is about 100 times better than Donkey.