Helping to reduce bus and truck crashes is more than a commercial driver or fleet owner's responsibility—it's also a rental driver's legal duty under the federal government's Compliance, Safety, Accountability (CSA) program—one that can carries stiff penalties for violators.
No company wants their operation shut down by government order, one possible penalty. That why it's smart business for rental customers to understand the BASICs of CSA.
The BASICs
The Federal Motor Carrier Safety Administration
introduced the Comp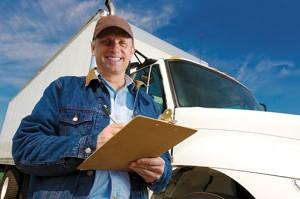 liance, Safety, Accountability (CSA) program in 2010. The CSA program calculates a score for all commercial drivers (with or without a CDL), as well as companies with a Department of Transportation (DOT) number, based on inspections, violations, and crashes, using data from a 24 to 36 month period.
CSA makes its assessments across seven categories, known as BASICs (Behavioral Analysis and Safety Improvement Categories). Those seven categories—
and examples of typical related violations—are:
Unsafe Driving (reckless driving, speeding, texting)
Hours of Service (inaccurate logs, exceeding HOS, driving tired)
Driver Fitness (suspended CDL, medical issues, inadequate training)
Controlled Substances/Alcohol (under the influence, drug misuse/possession)
Vehicle Maintenance (preventable mechanical defects)
Cargo Related (load securement, improperly packaged hazmat)
Crash Indicator (showing a pattern of crash involvement, injury/fatality)
Of the seven BASICs scores kept on drivers and carriers, five are available to the public. The reason behind this: to allow shippers, brokers, and insurance companies the ability to better manage risk by steering clear of risky drivers and carriers. Additionally, the FMCSA holds carriers accountable for all citations issued as a result of roadside, comprehensive, and on-site inspections; crashes; as well as all violations issued to drivers.
Keep in mind: through its Safety Measurement System (SMS), CSA tracks commercial vehicle incidents from a variety of sources, including:
Crash reports provided by the states for DOT recordable crashes.
Roadside inspection reports provided by the states, and all violations listed on the reports.
Violations discovered during interventions conducted by state or federal investigators.
Are Rental Customers Immune to CSA?
In a word: No.
Companies that use rented trucks are responsible under the law for the CSA scores that accrue to their operations—and those of their drivers.
However, rental customers do have one edge that fleet owners don't have. That advantage is the scheduled Preventive Maintenance (PM) done by many rental firms to ensure the safety and desirability of the vehicles they rent out. In other words, if you're a rental customer, you do not own the responsibility and costs of the PM, the rental firm does. By simply ensuring you stick to your rental firm's PM guidelines, you will dramatically affect your CSA scores—as well as the cost-effectiveness of your rented equipment.
Most Common Violations
In 2014, TruckingInfo.com looked at the most common CSA violations. Of those, the top three would be promptly detected and fixed as part of a good PM regimen. Those top three CSA violations, according to TruckingInfo.com, are:
Lighting— "28% of all roadside vehicle violations last year"
Brakes—"One-fourth of all vehicle violations are for brakes, with over 1 million brake violations last year"
Tires—"11% of vehicle violations are for tires—half for tread depth"
Preventive maintenance, however, will not help with each and every potential violation. According to TruckingInfo.com, the next most common CSA violations are:
Driver logs
Driver medical issues
Driver understanding of the English language
For rental customers—as well as fleet owners—all three require better hiring and training practices to minimize exposure to bad CSA scores. Ultimately, it comes down to keeping accurate logs, making pre- and post-trip inspections, identifying at-risk drivers, and being aware of ongoing changes to the CSA program.
Time to Protect Your CSA Scores
At the end of the day, well-maintained trucks—along with drivers that meet all legal requirements—are the keys to help prevent government violations and intervention. As a rental customer, a good CSA is more than a score, it's your ticket to staying on the right side of the law.