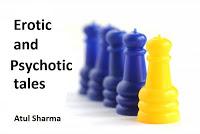 The rickshaw swayed through the near empty bazaar of Haripur, a small town adjoining Panchkula in Haryana. The Nandu Halwai was as usual busy instructing his cooks in preparation of sweets. Sharma Ji, the chemist was busy dispensing medicines to the long queue of ill. Ramdhin, the puncture walla was sitting idle today waiting for a tire to puncture or burst so that he could open his account for the day.
Arun and Shiela were witnessing the whole flurry of activities of the bazaar sitting in the rickshaw. In the past, they talked about these activities as they happened before them live. But today they were just mute spectators. No word crossed their lips. The only form of communication today was the touch of flesh of each other's tightly held hands.
Arun lightly squeezed the hand of Shiela as they reached their two room rented house in Haripur. Shiela alighted and walked straight into the house. Arun looked on and remembered the days when they used to chit chat as he paid the fare of the rickshaw. The whole neighbourhood had gone into a kind of hibernation in the searing afternoon of June. Arun paid and walked straight into his house hard gazing the red brick floor.
(Excerpt from my book Erotic and Psychotic Tales)