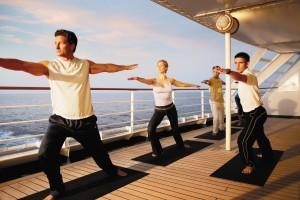 Last year wasn't exactly a good one for the cruise industry. But as we welcome 2014 with open arms and put the past behind us, we acknowledge that a cruise vacation can actually be a great way to promote and maintain a healthy lifestyle.
That's right. Cruises can be good for you, if you're willing to consistently hit the gym and skip the dessert station during dinnertime. But if you think the unlimited access to food and ability to sunbathe on deck for hours is too much temptation to bear, you may want to consider a wellness-themed cruise.
Whether you want to focus on fitness or specific dietary preferences, here are some you may be interested in:
Yoga Cruise. If you're a passionate yogi, taking a single yoga class during a cruise vacation may not be enough. Instead, you may want to sign up for a cruise devoted to yoga. Considering the mental and physical benefits to yoga, this is a great way to rejuvenate the mind and get in great shape.
Marathon Cruise. If you think a cruise vacation means you'll be stuck in a cabin all day, here's a cruise that will literally get you on your feet. These cruises are designed to feature on-deck activities and on-shore excursions that cover the equivalent of 26.2 miles. So if you're an avid runner or walker, this can be a great way to sail and explore new places such as Italy, the Caribbean, and Alaska.
Vegan or Vegetarian Cruises. If you have special dietary needs or preferences, the average cruise food fare is less than ideal. However, there are some that cater specifically to vegans and or vegetarians. Many ships also offer lectures and workshops on how to prepare a variety of delicious dishes.
Fitness. If you want to focus on boosting your fitness regimen, opt for a cruise ship that offers a variety of physical activities on board, as well as on-shore excursions. Some ships have basketball courts, ice-skating, boxing, onboard surfing, kayaking, or even rock climbing. When booking excursions, look for ones that'll get you physically engaged, such as bike tours or hiking trips. It's a great way to explore and get in shape!
Smoking Cessation. This one may seem a little surprising, but you can also find cruise trips specifically designed to help smokers kick the unhealthy habit.
Holistic Health. If you're not sure what type of health theme you want for your cruise, the general holistic health cruise may be for you. These cruises combine fitness, entertainment, healthy eating, and relaxing activities for an all-encompassing healthy travel experience. They even offer lectures, workshops, and private consultations to educate passengers on ways in which they can live a holistic and healthy lifestyle.
Photo from Trusted Luxury Cruises.