Crown Lands are back!
On February 6, KERRANG! had the exclusive video release for Spit It Out. I may have watched the video 50 times.
Cody and Kevin have been busy this past year. There's been a lot of travel, a lot of shows with a bunch of very cool bands, tons of cool new things like photoshoots, this video shoot, and of course, there's new music.
Spit It Out was written after their stint playing with Jack White
The video is a performance piece, but it offers us a side of the band we've never seen before. With an uber colourful, kaleidoscopic backdrop, the pair headbang, hair flip, and strut their stuff at a whole new level. Cody's journey from behind the kit in his sparkly gold suit is both glorious and groovy. Adding a little mic cord whipping, the bare-chested drummer is changing things up, big time.
Not to be outdone, Kevin's always been comfortable throwing a kick, while hair flipping his way through songs. We have to give props for his jacket choice. It's detailing, and the fact that it matches his boots and his guitar is everything. And that slide!
I'm loving the mirror images, the colours, the kaleidoscope treatment.
Crown Lands - Spit It Out
"Spit It Out deals with the frustrations of dealing with a partner who will not speak up when they have something to say," says drummer/vocalist Cody Bowles. "It addresses the anxiety of not being able to openly communicate. It is about carrying something within that you don't have the strength or courage to say to someone, and instead of saying what's on your mind you distance yourself from the situation." - Quote excerpt from KERRANG!
I've said it before, but I'll say it again. If there was any doubt that rock and roll is alive in Canada, this song should be evidence enough to reassure rock fans.
"Spit It Out" is finally out! This was the first song we wrote when we came off tour with Jack White last year, and it captures the spirit of that time in our lives. We recorded it at RCA in Nashville with Dave Cobb, live-off-the-floor with minimal overdubs. No click tracks, no auto-tune, no bullshit. This is Crown Lands 2020."
Crown Lands Original Digital Art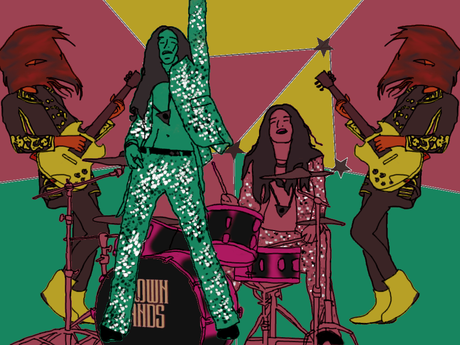 Original Art by James MacDonald
Crown Lands has taken everything up a notch. Their star power is indisputable, and their star is on the rise.
Crown Lands is heading out on tour with Larkin Poe, dates listed below. They've also got an album coming later this year. In the meantime, listen to this Spit It Out, Subscribe to their YouTube Channel, and get out and see a show!
May
01 - Birmingham, United Kingdom @ O2 Institute
02 - Dublin, Ireland @ Button Factory
03 - Glasgow, Ireland @ SWG3
05 - Manchester, United Kingdom @ Ritz
06 - Bristol, United Kingdom @ SWX
07 - London, United Kingdom @ Shepherds Bush Empire
09 - Amsterdam, Germany @ Paradiso Main Hall
10 - Cologne, Germany @ Live Music Hall
12 - Brussels, Belgium @ Ancienne Belgique
13 Paris, France @ Le Trianon
15 - Barcelona, Spain @ Apolo
16 - Madrid, Spain @ Sala But
19 - Milan, Italy @ Santeria
20 - Zurich, Switzerland @ Dynamo
22 - Munich, Germany @ Technikum
23 - Vienna, Austria @ WUK
25 - Prague, Czech Republic @ Lucerna Music Bar
26 - Berlin, Germany @ Huxley's
27 - Hamburg, Germany @ Markthalle
29 - Copenhagen, Denmark @ Vega
30 - Gothenburg, Sweden @ Tradgarn
31 - Oslo, Norway @ Rockefeller
June
02 - Stockholm, Sweden @ Berns
08 - Toronto, Canada @ Mod Club