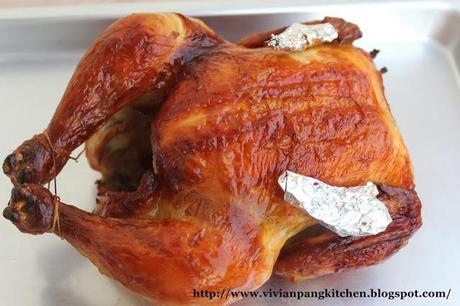 I used this recipe before for

roasting duck

. The result turns out great! As the named stated crispy skin! This time I'm using chicken. My kids love it! 
The preparation is not much. As long as is sunny day you shall have no problem to get crispy skin roasted chicken. Why not prepare this oven roasted chicken together with other dishes for coming Chinese New Year reunion dinner?
Adapted and slightly modified from
My Little Space
Ingredients:
1 whole chicken (I used 1.5kg)
3 cups water
2 tablespoons maltose
1 tablespoons vinegar
~Seasoning
2 gloves grated garlic
1 tablespoon grated ginger 
½ teaspoon Chinese 5 spice
1 teaspoon salt
Methods:
1. Combine water, maltose and vinegar in a wok/a large pot and bring it to boil.
2. Clean the chicken and pat dry. Bath the chicken with the boiling mixture for several times.
3. Tide the neck of the chicken with a string and sun dried for an hour.
*since I had remove the chicken neck I place the chicken upright with a mineral bottle (filled with water so it can stand) inside the cavity.
4. Again bath the chicken for the 2
nd
time, sun dried again for another 1 ½ hours or till dried & hard skin is formed.
5. Combine all the seasonings and mix well, stuff mixture into the chicken and spread around the inner part. Do not rub mixture over the outer skin!
6. With string tie the chicken feet for easy handling. Wrap the wing tips with foil to prevent burnt. Bake in preheated oven 190'C for about an hour or until the skin is brown and crispy.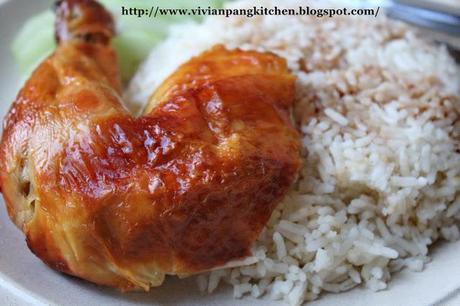 I am submitting this post to 
Chinese New Year Delights 2013 hosted by Sonia of Nasi Lemak Lover