Besides the fantastic Italian Almond Tart that we had baked for our bake-along last year, this recipe from the William-Sonoma baking book is also one of the highest rated recipe at Williams-Sonoma Recipe website. Being a chocolate and cookie lover, I have proposed to bake these for our bake-along with Joyce from Kitchen Flavours and Lena from Frozen wings.
Previously, I have baked chocolate cookies at here, here and here. They are yummy but not entirely crispy! Knowing these chocolate cookies are going to be crispy, I'm keen to bake these...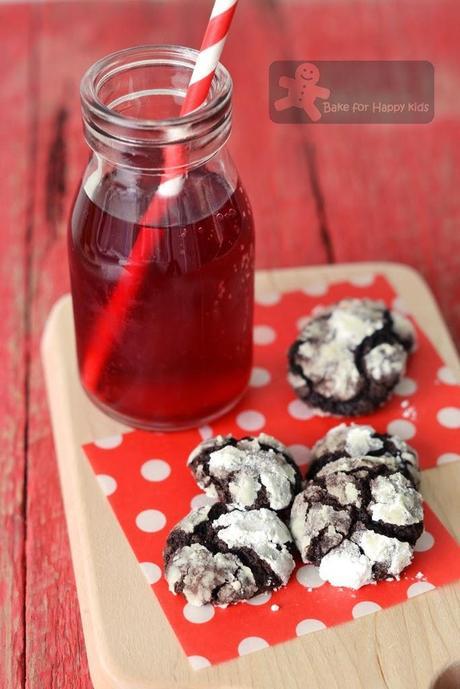 Yes! These chocolate cookies are crispy.
In fact, only my second batch of cookies was crispy and my first batch wasn't and these are the not-so-crispy cookies that I have baked initially...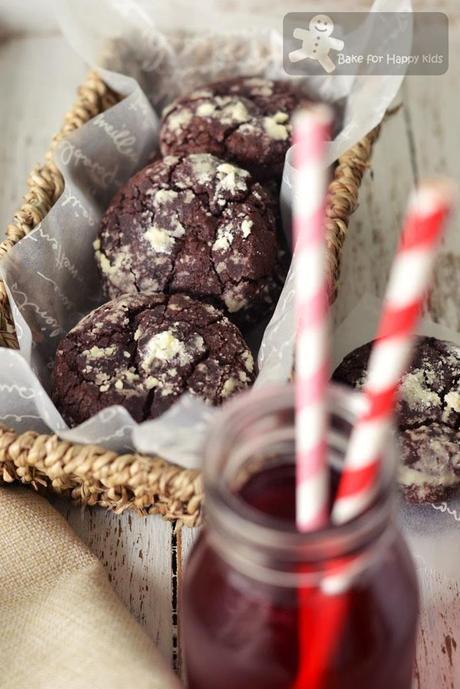 My first batch of cookies. Not crispy but very delicious!
These not-so-crispy cookies taste like hybrids of brownies and soft cookies being soft and fudgy. Although these fudgy cookies are heavenly and satisfying enough to eat, my curiosity tells me that my appetite for crispy chocolate cookies hasn't been satisfied.I asked myself... Why are the cookies not crispy??? Looking at the recipe closely, I begin to know the reason why... 
Size really does matter! Instead of baking 42 cookies, I have baked 18 medium sized ones. If I baked them in smaller size, the cookies will be crisper and drier with the suggested baking time.
More sugar, please! Apparently, I'm too stingy! - LOL! Comparing the pictures of my cookies and William-Sonoma's, I realize that I my icing sugar coating is too sparse and thin. If I coat the cookie dough with more sugar, the cookies will be more sugary crunchy.
Longer baking time makes the cookies drier and crispier. As recommended in the recipe and tested by me, I can assure you that baking SMALL cookies at 190°C or 170°C fan forced for 12  minutes will yield nice crispy cookies.
Cooling makes cookies extra crispy too! The smell of cookies and cakes in the oven often make me ferocious and impatient.... Ops! To me, mastering the art of refraining to pinch and taste freshly baked cookies and cakes can be very difficult... *guilty* Being ferocious me, I have tried several cookies immediately after baking and I have to say that they are not crispy when they were warm.
Storing the cookies make them less crispy. I have stored the leftover crispy cookies in air-tight container for our next day consumption but found that they lose some of their crispness on the next day. They are still nice but with less crisp and crunch than they had on the day they were baked.
Comparing both crispy and non-crispy cookies, I'm loving both but prefer the fudgy ones for its smoother chocolaty texture. My husband and son feel the same too. Crispy or not, we are loving these chocolate cookies anyway... especially they are super-easy to bake and giving the chocoholic us lots of instant happiness.
This is how I bake these cookies...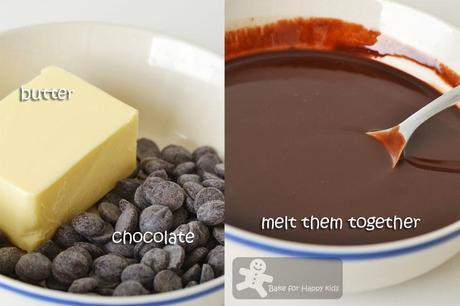 Baking these cookies is super-easy! Just melt ...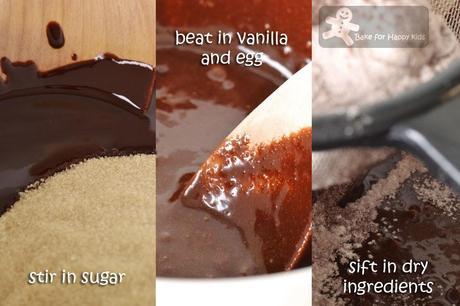 ... mix ...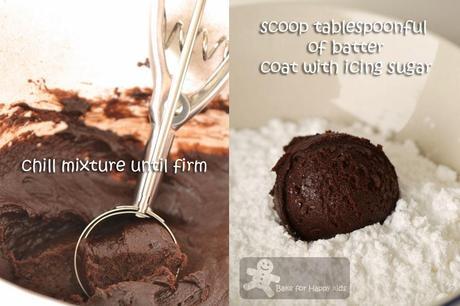 ... chill, coat with sugar and bake! Super-easy??? You have to agree with me :p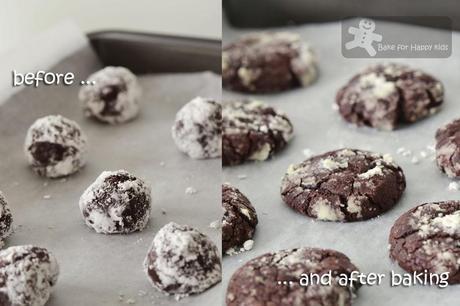 My first batch of not-so-crispy cookies. Bigger with less sugar coating.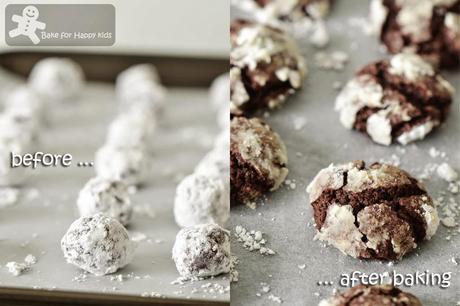 My second batch of crispy cookies... Smaller with more sugar coating.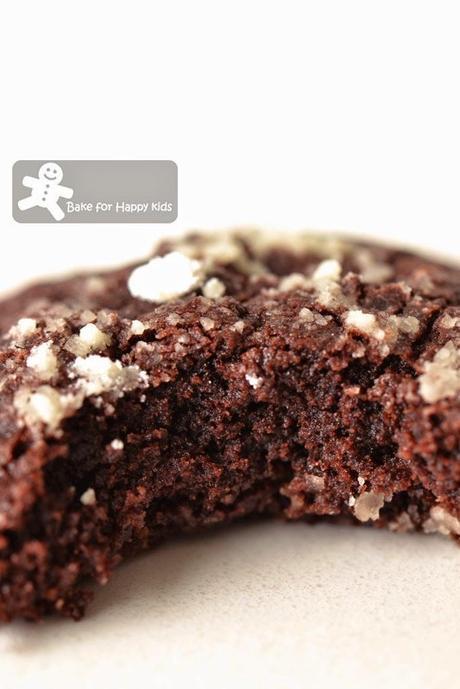 My first batch of cookies... Not so crispy but fudgy and heavenly!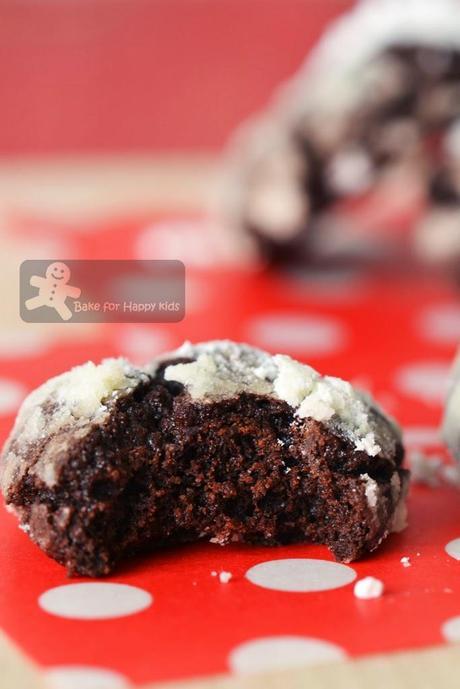 My second batch of cookies... Look the same but crispy and crunchy!
Here's the recipe from the book, The William-Sonoma Baking Book or here
(with my modification in blue)
Makes about 42 cookies
(but I made 18 medium sized cookies for my first batch and 68 for my second batch)
6 tbsp or 90g unsalted butter, cut into pieces
2 oz

or 60g

unsweetened chocolate, chopped
(I used 
Callebaut
 dark chocolate callets with 70% cocoa)
1 cup granulated sugar
(reduced to 150g raw caster sugar)
1 egg
1 tsp. vanilla extract
3/4 cup

or 110g

all-purpose flour
1/4 cup unsweetened Dutch process cocoa
 powder
(I used 25g 
Valrhona
)
1/2 tsp baking soda
(replaced with baking powder)
1/4 tsp salt
1/2 cup

or 50g

confectioners' sugar
In a small saucepan over very low heat, combine the butter and chocolate. Cook, stirring occasionally, just until they are melted and the mixture is smooth. I melt butter and chocolate together using a microwave with low power for about 1-2 mins.
Pour the chocolate mixture into a large bowl and let cool slightly. Stir in the sugar until evenly moistened. Add the egg and vanilla, beating until light and fluffy.
Over a sheet of waxed paper, sift together the flour, cocoa, baking soda / powder and salt - I sieved these ingredients into the butter mixture directly. Gradually add the flour mixture to the chocolate mixture and stir to combine. Cover and refrigerate until firm, about 1 hr.
Preheat an oven to 375°F (or 170
°C fan forced)
. Lightly grease 2 baking sheets or line with parchment paper 
/ baking paper
.

Remove the cookie dough from the refrigerator. Shape the dough into 3/4-inch (or teaspoonful for smaller cookies or tablespoonful for larger cookies) balls and roll in the confectioners' sugar to coat completely. Place the balls about 1 1/2 inches apart on the prepared pans. Bake the cookies until puffed and cracked on top, about 12 mins. They may appear underdone in the center but will turn crisp as they cool. Let cool on the pans for 2 to 3 mins, then transfer the cookies to a wire rack to cool completely. 

Note: For my first batch of cookies, I have baked 18 medium size cookies at 170°C fan forced for 12 mins and yield fudgy brownies like cookies. For my second batch of cookies, 
I have baked 68 small cookies at 
170
°C fan forced for 12 mins and yield nice and crispy cookies. Cooling the cookies completely helps to make them crispier.

Here are our friends that have joined us for this bake-along. Please visit their blogs for more of their crisp chocolate bites baking.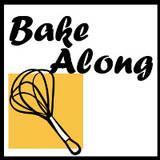 Please submit your details if you wish to link your post with this bake-along. This linking tool is open from 26 June to 5 July 2014.
For our next bake-along, we are baking chiffon cakes
 which is to be posted on 10 July 2014. Please bake-along with us! All you need to do is to bake your favourite chiffon cakes and blog hop with us for the next 10 days.

To blog hop with us, simply copy and paste this linky HTML code into your blog post where you want the blog hop list to appear. Make sure you are in HTML view/mode when you paste in the code.
get the InLinkz code
Before using this linky tool, please make sure that: (1) Your post must be a current post. (2) Please mention Bake-Along in your post and link back to any of our hosts' Bake-Along post, (Joyce, Lena or Zoe). (3) Appreciate if you can display the Bake-Along badge in your post when linking up with us. Cheers!
This post is also linked to the event, Little Thumbs up organised by Doreen from my little favorite DIY and me, Bake for Happy Kids, hosted by Jozelyn from Spice Up My Kitchen at this post.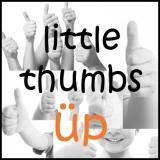 Only for this month (June 2014), Little Thumbs Up event starts on 1st June until the last day of the month. Please join us! To join, simply cook or bake any recipe with the theme of the month which is BUTTER for June 2014 and link with us at 
this post 
anytime until 30th June 2014. 
Don't forget your thumbs up or display this badge! And make sure that: (1) Your post must be a current post preferably within this month. (2) Please mention Little Thumbs Up in your post and link back to Bake for Happy Kids, my little favorite DIY or/and 
Jozelyn 
from 
Spice Up My Kitchen. 
For more details, please see this.

What after June 2014? Jasline from Foodie Baker will be the next hostess of July 2014 and her theme is POTATO! Her Little Thumbs Up event starts on first Tuesday of July 2014 until the last day of the month. 

--

I love fine details of all timber surfaces and also everything in red!!! My red gumboots. Cranberry juice. Strawberry. The STOP sign... LOL!
I always want a red and rustic timber backdrop for my photography and has contacted Soraya from A Little Raya Sunshine (email: [email protected]) at Cranbourne, Victoria, Australia to construct this backdrop in my first photo and I'm loving it.
If you need any customised timber furniture or any products using reclaimed timber, please contact Soraya. She is very friendly, fantastic and thorough with her job and quote prices that are very reasonable.