It's been chilly and rainy here in Paris. The kind of weather that encourages curling up with a pot of tea and studying the day away. It's not the kind of weather that condones scavenger hunts throughout the streets of the city though. And rather unfortunately, cold and wet, I spent yesterday morning wandering the medieval Latin Quarter with the French language class I'm auditing. The savory crêpe, sweet crêpe, and cider I had for lunch afterwards helped more than you know.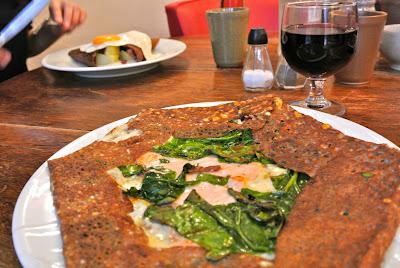 Crêpes originated in the northwest region of France known as Brittany. Savory ones are made with buckwheat flour (and actually called galettes), whereas sweet crêpes are made with white flour. Traditionally, both are served with slightly alcoholic apple cider as wine was less plentiful up there :). I've enjoyed two crêperies since arriving; most recently Crêperie Chez Suzette, and before then, Crêpes-Show. Good to know: the Latin Quarter and Le Marais are the best neighborhoods for crêpes.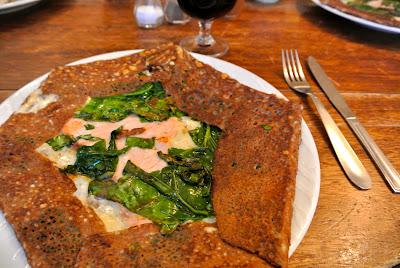 A formule at a crêperie often includes a savory crêpe, sweet crêpe, and a drink for a fixed, affordable price. My favorite savory ones include the bistro (goat cheese, lardon, salad), the "pop-eye" (spinach, smoked salmon, over-easy egg | pictured above), and the complete (ham, gruyere, softly-fried egg).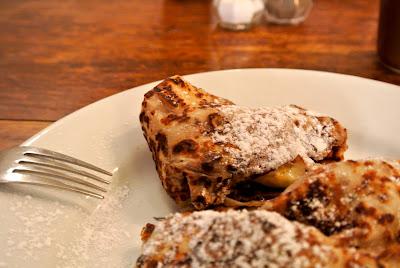 As for my favorite sweet crêpe, I usually go for a nutella or chocolate filling, with or without banana. Yesterday I was feeling adventurous nostalgic for Northeast autumns though, and opted for a housemade apple compote filling with butter and cinnamon. It was beyond delicious. And although not the most nutritionally-sound of meals, for 9 euros and one warm, happy belly, lunches like these are so worth it.