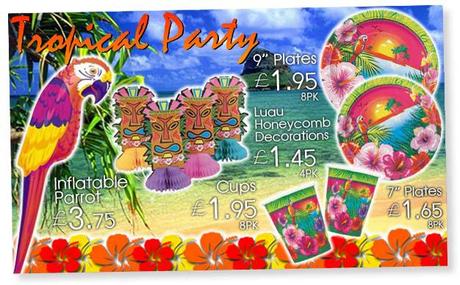 The most perfect way to arrange and organise a party is by choosing a certain theme. It is extremely easy to choose a subject for your party these days with all good part website such as Party Options supplying everything you need to create your theme in one place. You can pick up a colour, a combination of colour's, animals, different way of life, religion or any era for that matter. We have included some of the most popular Hawaiian theme party ideas that have been in demand for some time now. Loved by kids and adults alike, these theme parties are a perfect way to unwind and calm down with family and friends.
Read on for more Hawaiian tips in this blog.
Why not arrange a Hawaiian theme party for your friends and family as they are truly awesome. If you have your home close to the beach then that is the most perfect spot to hold it, otherwise your back garden will be fine. Have a peek at the following Hawaiian theme party accessories to help you arrange a great luau party. Be innovative with the invites to your Hawaiian themed party. Send them out on cut outs of Hawaiian cocktails or surf boards. This will get your friends and family in the mood for a great party celebration. You can also consider using some social networking sites like twitter or facebook to keep your party guests informed about the party.
A social source online like this will also keep your guests excited and they will be able to see everyone who will be attending. This usually as a rule also increases the attendance level for a party.
I would suggest you set up a central area where all drinks and party foods are served from. You can then concentrate the numerous theme items around this area to make a great visual effect, setting the scene with this great inflatable palm tree. Put surf boards up next to the wall if you have them or if not there are plenty of hanging decorations that you can buy for very little money and decorate the place with pineapples, coconuts and sea shells. For the food, I offer to have a wide variety of fresh fruit for your guests in order to be able to make skewered fruit kebabs.
Serve up bowls with kiwi, pineapples, peaches, mangos, bananas and melons.
Have you ever tried barbecue with fresh fruit? It tastes fantastic  with fresh cream! I would in addition have the general barbecue food to keep everyone happy. For drinks, its great to hire a cocktail maker if you have a the budget can stretch to this. Watching him or her create fancy cocktail drinks will be a lot of  fun for your guests! If not then provide the guidelines and the ingredients for great things and let them create there own or even try the classics such as the Cosmopolitan, Long Island Iced Tea,Heartbreaker or the Aloha.