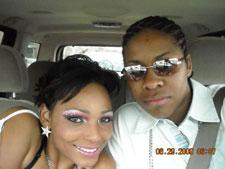 Bubble Babez Bath Company Interview
Whats your name & Your Company Name (Why Did you choose that name?):
My name is Nicole Davis, My fiance Tristan Jackson and I created Bubble Babez Bath Company LLC. We selected this name because with a two part answer lol, We chose Bubble first because of course we are dealing with soap and I firmly believe that if you dont see bubbles then its not clean. Babez was selected because that is what Tristan and I call each other all the time. So we birthed Bubble Babez Bath Company LLC
How did you get into this business?
We got into this business because I (Nicole) was looking for an inexpensive way to fill swag bags for Tristan's Birthday party but still be chic. I didnt want to use cheap items people would never use again, I loved baking so making cupcakes was an option but I wanted to have bath and body products something people could use for a while. I decided to combine the two options to make bath and body products that smelled like cakes, I spent endless hours on the computer and reading trying to figure out how to go about making soaps and lotions. When everyone was down to their last corner of lotion and slither of soap they asked me for more. I had no idea that it would be such a hit with my friends!
I wasn't too far off of the beaten path because I was am a licensed cosmetologist/makeup artist and was working with cosmetics already. I studied about esthetics, skin, nail and hair care. Tristan joined me because I told her we can do this as a business and she had so much faith in this dream that she left her job working at ESPN to get on board full time and make Bubble Babez grow.
I started off with melt and pour soap and was content for a while, but I really wanted to know what was going into my soap. I researched a whole more because it never stops lol, spent many hours on YouTube looking at soap making videos, to venture into making lye soap. I was a little intimidated in working with the lye because for some reason it has always seemed like a scary thing. But I asked a longtime soapmaker (Kim of Nature's Art) if she would help me out, I let her know I was going to finally try my hand at it. Such a great teacher she simplified it for me and made me fearless about working with lye and making soap that I just leaped! I made my first batch and that was it I caught the bug! After my 1st batch was made my wonderful teacher said ok let me teach you how to discount the water so you can cut your cure time in half, since I am impatient and I like immediate results. I was successful yet again I was so excited like I really did this. I still look at my soaps in awe that I created this from scratch. From then on I couldn't stop.
What is your favorite part of this business? (PLEASE, take the time to really tell us your story! A Short couple of sentences will not be acceptable, our readers want to know you!)
My favorite part of this business is creating. I am a creative person by nature and I am always thinking of ideas or how to improve on the ideas that I have. My mind is so busy at times I cant sleep wake up in the morning and tell Tristan what I dreamt or was thinking of creating and boom I make it happen. Tristan is usually the one reeling me back in because sometimes one thing has nothing to do with the other lol. She always say focus lol but I am like I have to be different LOL. Tristan's favorite part of the business is going to the markets and interacting with our customers. She also loves testing the products.
Whats the most difficult part?
The most difficult part of the business is funding and finances. Trying to maintain the business and home after a while it starts to get hectic and things just have a snowball effect and it just grows. But, with help, careful budgeting and planning it makes it a bit easier. We started out doing the business and we had 2 incomes plus the business, then we decided to do this full time and then we only had the income of the business and that was uncomfortable. Also sometimes its difficult for on my relationship because my business partner is also my fiance and we tend to get on each others nerves after a while lol. All of our time, energy and soul is poured into the business and it always seems like we are working that we find it rather difficult to spend time with each other and NOT discuss work.
Whats your favorite product or aspect of Natures Garden?
My favorite product from Natures Garden used to be the french milled soap omg I loved it! I am a HUGE fan of the fragrance oils! I love that they are swift with shipping and their customer service is great. I also love the interaction with the show and tell it gives the crafters a chance to show off what they are making with the products and let potential customers know how people really feel about the items. Because I know I look at show and tell and see the possibilities of products that I would never have tried before. So I love that!
What are your goals for the coming year for your business?
Our goals for the coming year is to get to be organized! I can not stress enough how important it is. We would like to grow and have Oprah, Ellen (cuz I love her!), Whoppi and everyone talking about our products. I don't like comparing myself to any other company but I would really love to have a cult following and be a household name!
Follow us on Twitter:
http://twitter.com/BubbleBabez
*Guys please spread the word! And share this flyer with all your family and friends!*
Any Info You Have Below-
https://www.facebook.com/pages/Bubble-Babez-Bath-Company/117606324926803
http://twitter.com/BubbleBabez