Today we would like to talk about our main business partner in Italy,  Sasa' Tommasello, one of the most successful start up-er marketers in the country. Owner of the advertising agency Surrealist, he also runs Non Convenzionale the corporate blog he uses for informing and networking with other marketing heads. Sasa'(the original name Salvatore stands for The Saviour) has recently founded helped by Valentina de Caro and Enrico Scognamillo,  Creative Advisory an exciting social platform for creatives, marketers and whoever is into communication at all levels.
After months of appraisals, reports, beta testing(of which we got involved) and the creation of a highly populated Facebook Page, the best professionals in Italy seem to gather and join the community.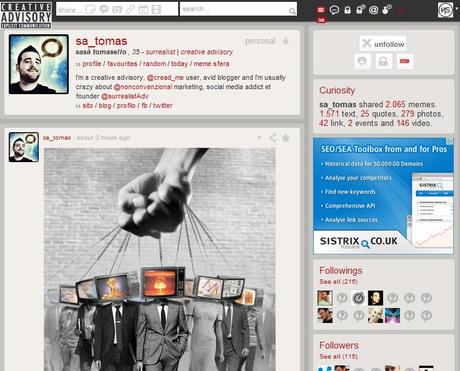 .
There is now no secret that corporations and advertising agencies do not recruit on a full time basis; often relying on agencies, freelancers, maybe create partnerships with other professionals or other agencies to implement the projects commissioned. From here, the idea:  if this happens in real life, why not create an online space where all communication professionals can come together and create "virtual co-working" ? Why not use the power of social media to spread the brand "I" and not just the brands we already work with every day?
Creative Advisory offers the opportunity to register for free, this army of creatives will appreciate your thoughts, images, links and videos even if you do not speak Italian!
If I had to make publicity for a TV ad I would say: Why not join today !?
And finally you can follow Never Say Media on Creative Advisory HERE.
via Viral Blog