This is our weekend blog, to be updated until the new one is posted Monday, October 24
TAKEAWAY: If you are currently designing your first tablet edition, or preparing a second version, make sure that "pop up" moments are on the menu.  Here is a good start: basic pop ups that go a long way to satisfy the user, and the curious finger. PLUS: Tons of great things to read this weekend, we offer you suggestions of "don't miss" articles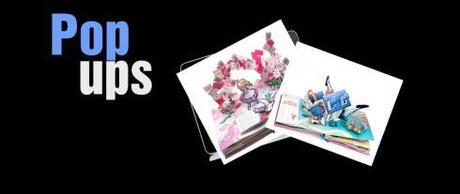 Illustrations: http://toykyokids.blogspot.com/2010/04/it-makes-me-pop.html

The art of the simple pop up for a news tablet edtiion is just that—-simple.
No news tablet should dispense from at least a couple of pop ups, and the frequency and intensity of the pop ups should continue to be work in progress, increasing as the tablet team becomes more familiarized with the new platform and its workings.
However, as we have said repeatedly, one of the great advantages of storytelling on the tablet is that it allows editors and designers to give stories longer legs—-to enhance the storytelling experience.
Not to take advantage of the many possibilities available is to , in a sense, cheat the user out of a richer experience when reading stories on the tablet.
As such, I am always grateful when The New York Times iPad edition shows me a clip of the play that the theater critic is reviewing allowing me, too, to become a critic, even with only one short clip of the play to review. By the way, I don't think the Times does enough with the pop ups, and there are many wasted opportunities, especially with obituaries of celebrities, but I am sure it is something that will happen with time.
The Daily, the first daily newspaper totally created for the iPad, is becoming more pop up driven, a noticeable progress from its early days when it was mostly a turn-the-pages type of tablet edition.
The editors seem to be looking for pop up potential in stories, and then developing them. A recent pop up from The Daily is illustrated here: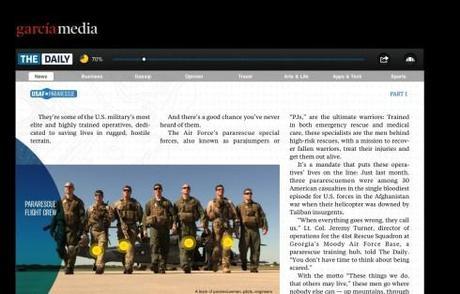 Simple, but functional: instead of writing the captions that we are used to in print, the photo in the tablet edition is milked for all its storytelling possibilities. Click on each of the pilots, get a mini story.
At the New Straits Times
As we put finishing touches on the tablet edition of the NST which premieres in a few weeks, part of our task has been to create styles for pop ups.
The human resources and staffing available here are not large enough yet for us to sustain a series of very frequent and sophisticated pop ups.  However, that is no reason not to explore the most basic pop up opportunities which are:
1. The photo pop ups
2. The video
3. The still photo that turns into a video
All of these are shown here in the prototype stages.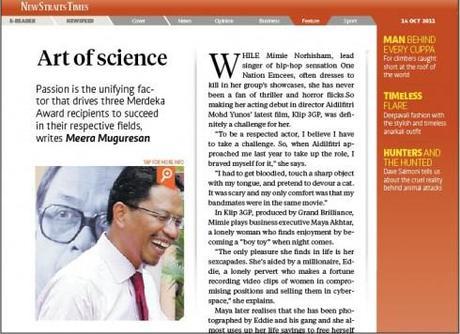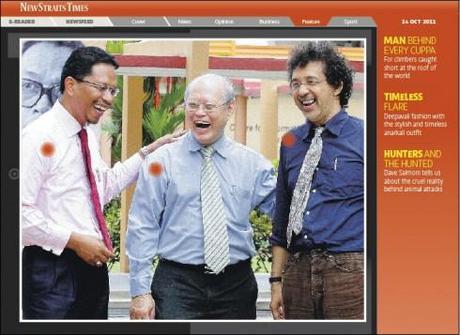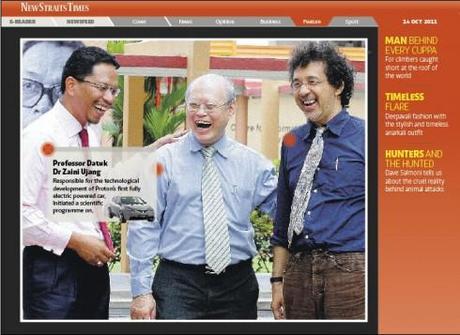 This simple pop up sequence shows how the user is asked to tap on the photo that accompanies story. From there the user sees buttons that accompany three individuals in the story.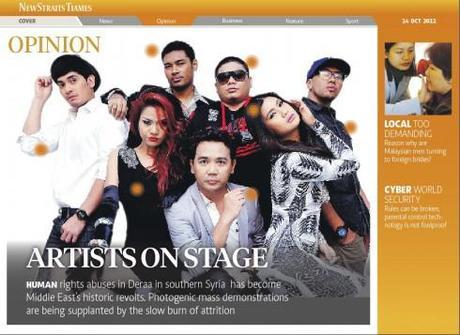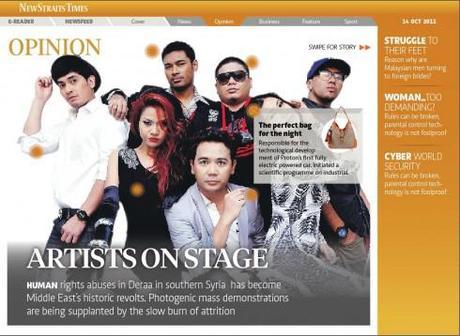 Our previous blog posts on pop ups
TheiPadLab: the art of the simple pop up
http://garciamedia.com/blog/articles/theipad
Defining those pop up moments in the iPad
http://garciamedia.com/blog/articles/de1
Amazon's new tablet may fire up the competition
http://www.garciamedia.com/blog/articles/amazons_new_tablet_may_fire_up_the_competition
Magazine cover nostalgia galore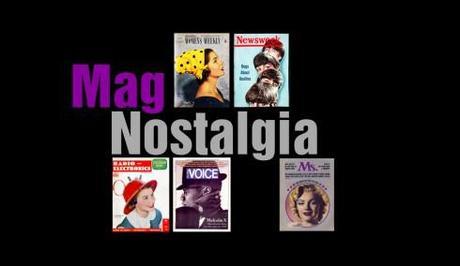 Images from: http://newmanology.tumblr.com/, http://www.oddee.com/item_94900.aspx
Part 1-The Newsweek collection
For those into magazine cover nostalgia, don't miss the Newsweek archivist's collection.
From the Beatles to Princess Diana, with Groucho Marx and the San Francisco earthquake as part of the mix.
A magazine in constant evolution, now undergoing one of its most dramatic ones under the editorship of Tina Brown.
http://nwkarchivist.tumblr.com/

Part 2 -Newmanology
Here is a romp through some fantastically inspirational goodies from our good friend, that most talented designer, Robert Newman, the creative director of Reader's Digest.
The mix here runs from the always idea-filled jazzy Blue Books to, yes, the National Enquirer, and assorted magazines (there is a funny science fiction one in there).
http://newmanology.tumblr.com/
While on the subject of magazines
One Magazine, Four Covers….and Some
Joe Zeff's talented team does it again, in this case, designer Ed Gabel worked on four portraits provided by Fast Company CD Florian Bachleda to create a stylized look that unifies the split-run covers.
http://joezeffdesign.com/one-magazine-four-covers-and-more/
Other stories for good weekend reading: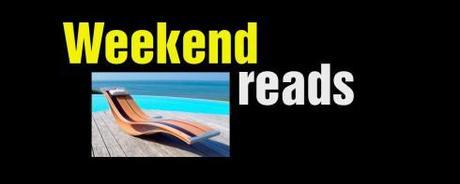 Illustration: http://www.trendir.com

Apple's Newsstand Is Already Booming For Some Magazine Publishers
First paragraph: Early indications are that Apple's new iOS features for publishers have had an immediate beneficial impact.
http://paidcontent.org/article/419-apples-newsstand-is-already-booming-for-magazine-publishers/

UK: Study: 'Tabloid-broadsheet divide has blurred'
http://www.pressgazette.co.uk/story.asp?sectioncode=1&storycode=48054&c=1
 
First Paragraph: Research by PR company Clarion Communications claims the once clear distinctions between quality newspapers and the tabloids has been eroded over the last 25 years.
My take: Why did it take so long to realize that first, the public's perception of tabloid formats is more influenced by content than the size of the page. And, furthermore, just like we have observed for years now, the mainstream (traditionally serious and conservative) media have dipped one toe into the world of the jazzier tabloids (Brangelina news makes it all the way to a lot of those so called family/respectable newspapers, and why shouldn't it?)

WSJ Tops List Of Best Newspaper Apps
http://www.netnewscheck.com/article/2011/10/18/14707/wsj-tops-list-of-best-newspaper-apps
Highlight: The Wall Street Journal's came in ahead of all other newspapers on iMonitor's list of the top 10 newspaper tablet and smartphone applications in the world.
My take: I am not surprised to see one of my daily favorites, El Pais, of Madrid, is number two on the list.  Perhaps the design (look and feel) of this app does not send the bells ringing, but its utility is tops. Nothing fancy, but very practical. Few templates that do the job to navigate you, to get you oriented through section color coding, and, constant news updates on the right hand side of the landing page.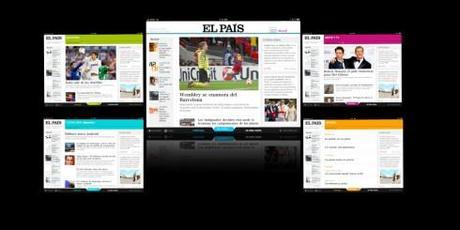 This combo shows  
Flipboard editorial chief on how magazines are flipping out (Q&A)
http://news.cnet.com/8301-1023_3-20120104-93/flipboard-editorial-chief-on-how-magazines-are-flipping-out-q-a/

First paragraph: Veteran Time Inc. journalist Josh Quittner completed his defection from print media by joining Silicon Valley startup Flipboard—the popular social-magazine app for the iPad—this past July. Quittner is Flipboard's first editorial director. Before joining the company, he directed Time Inc.'s digital magazine strategy and ran editorial for Time.com. In the mid-1990s he was the first writer to cover the Internet exclusively for Time. And he's also had stints running editorial for Fortune and Business 2.0. So why leave a namesake publishing conglomerate for an unproven social-media experiment? Anyone familiar with consumer technology knows Flipboard isn't your average bootstrapped venture.
TheMarioBlog post #874