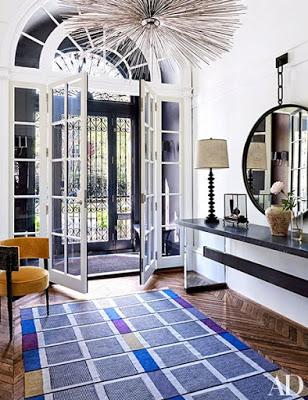 A beautiful townhouse with great bones gets a makeover by the design firm Wells and & Fox that has me swooning!  As soon as the present owners bought this Victorian beauty, bringing it back to its grand majesty was their first priority.  It had been broken down into apartments.  It was neglected, shorn of its magnificent moldings, trim, and the original details that that made this home so special in the first place.
From the moment you walk through the vestibule, you know tradition and modernity create the perfect marriage of past and present.  I am captured by the juxtaposition of contemporary pieces resting comfortably next to and within the traditional elements.
The five stories revolve around a skylit atrium.  The dialog between the old and the new leaves you questioning what was here and what was added?  The architect, Dell Mitchell, describes the challenges of renovating a 1861 home in the accompanying article in Architectural Digest.  It takes on an almost surreal quality if you study the moldings, stairway, and layout.  It's not exactly period perfect.  Liberties were taken when playing with scale and proportion.  Plenty of wall space for large ''robust" art was a  goal, as well as the desire to find a unique voice for all elements to co exist comfortably.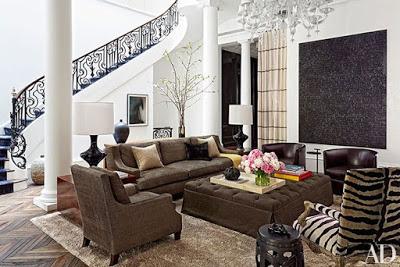 Warmth is exuded by the neutral, tactile palette throughout the home, but brights do make an appearance when least expected.  I am seriously attracted to everything about the house.  The lighting is especially captivating.  The antique oak floors throughout lend more authenticity to the space.  The Jean de Merry sunburst fixture in the foyer radiates excitement, the Lindsey Adelman branching globe in the library is absolutely one of my favorite fixtures of all time!  Seeing it (anywhere) puts me over the edge!  Not to be overlooked ~ the interplay of venetian glass chandeliers along side modern classics is designed with a delft hand.  The David Weeks fixture in the upstairs den is a marvelous choice also!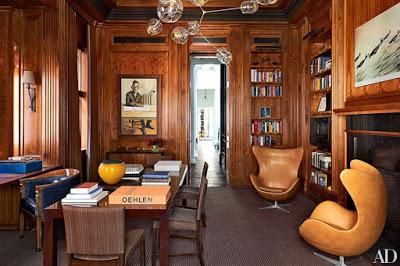 Taupe, tan, ivory, and touches of blue and black make up the color palette with art being the focal point.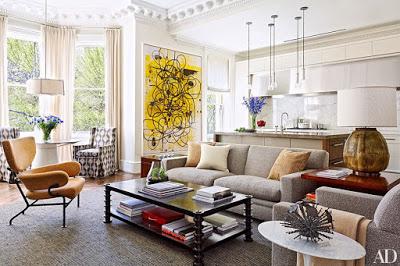 A vintage Milo Baughman chaise and the Arne Jacobson egg chairs are iconic for  a reason, but never take attention away from other important players within each room.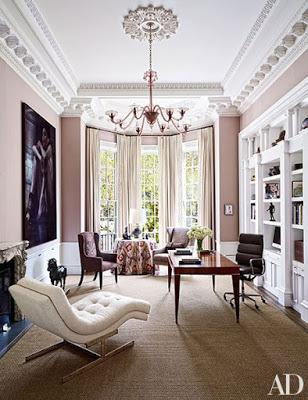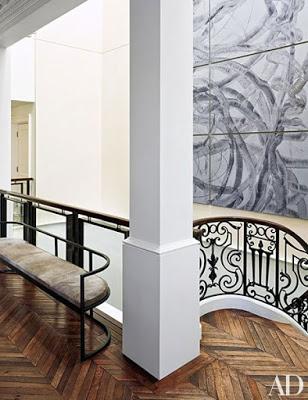 The intricate scroll ironwork balustrade is a nice counterpart to the plain panes of encased glass that make up the railings above the first floor.  The dance between the formal and informal, ornate and plain is what has me transfixed!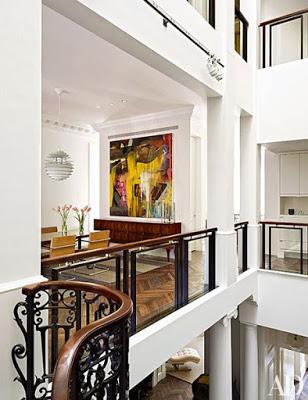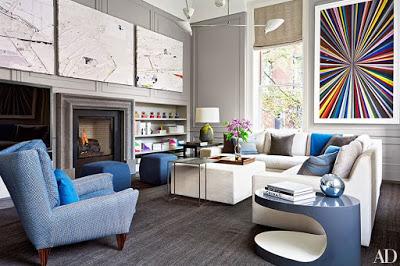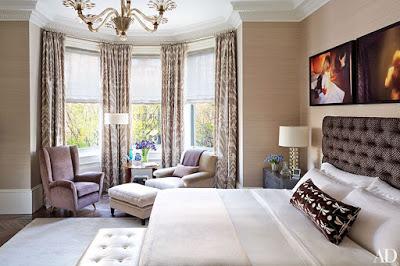 The wife explained that she wanted an environment that she described, "like cashmere," meaning soft, refined, warm and beautiful.  I think she got what she was looking for and more, don't you?  Add this to the list of places I could be happy in!
Phs: Josuha McHugh for AD magazine