Creating a "Wow Factor" in any space is all about the unexpected –regardless of budget. It's about creating an energy that embodies you as you enter a room.  Something that will raise an eyebrow or provoke an approving smile – that will set your home apart from the rest.
It can be as simple as maximizing a spectacular view, painting your ceiling a deeper color than your walls, using reclaimed doors from a salvage yard as a headboard, or introducing a bright and colorful contemporary piece of art in a traditional space.  Just one special detail can create a huge impact and give you the "wow" you're looking for.
Interior Architecture: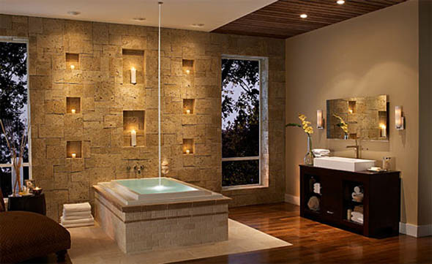 Photo via Eldorado Stone
This is my favorite talking point in design.
Integrating fixed details like, arches, niches, columns, ceiling details or interesting surface materials into the architecture of the home, instantly transforms a boring space and provides an eye-popping framework for the rest of the décor within.
These days the size of the room is foreshadowed by the well-appointed space – and higher quality finishes speak volumes!
Dramatic Walls: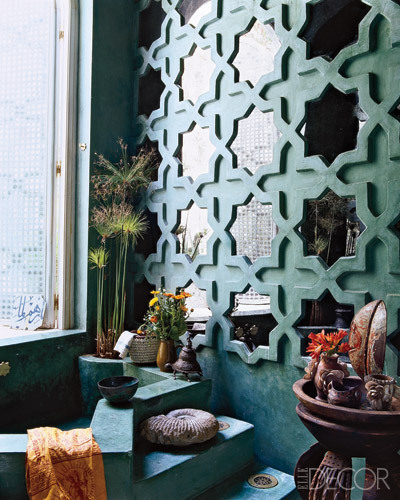 Photo via Elle Decor
Designer Liza Bruce's Moroccan bathroom is based on an eight-pointed star theme.  What is so impactful in this space is the traditional Islamic mirrored wall design.  The dramatic texture, color, pattern and reflection create that immediate wow factor.  Grab some inspiration from this concept and create some drama with mirrors and moldings on a wall in your home.
Eye-popping Area Rugs: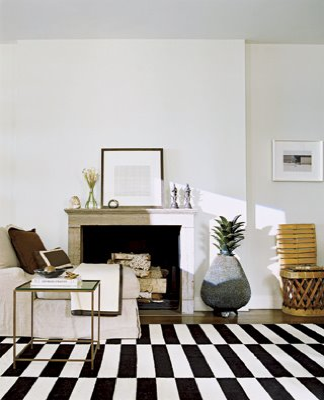 Photo via Elle Decor
A boldly striped rug provides an ideal foundation and anchor for this room, as it gives instant "oomph" to this monochromatic space. The eye-catching rug tends to unify all the classic elements within – and gives it the spirit and vitality it needs to create that "Wow Factor".
Elegant Light Fixture: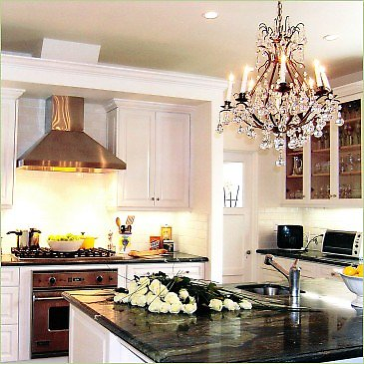 Photo via Lori Gilder         Interior Makeovers Inc.
For instant sophistication and sparkle introduce the unexpected and add a crystal chandelier into your kitchen. It works brilliantly within a classic kitchen style and becomes the true focal point.
Nothing says wow like shimmery crystal!
Salvage and Reinvention: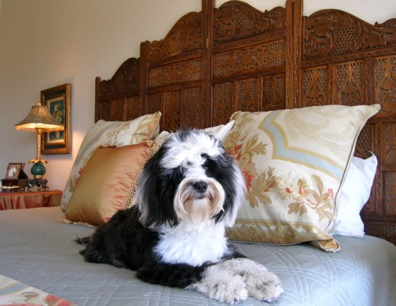 Photo via Lori Gilder         Interior Makeovers Inc.
Using an exotic Indian screen creates a visually striking headboard in this master bedroom. This very distinctive design element integrates beautifully within this eclectic bedroom retreat.
What are some of your ideas in creating your "Wow Factor" at home?
 Stay Inspired!