I'm so craving a Fashion Look from Alexander McQueen Label...
I know
fashion designer label
Alexander McQueen
isn't everyones cup of tea. And thats all good.
I just wanted to show you one of his pieces from his
S/S 2012 Collection
. This
pink detailed dress
is so stunning for the
Alexander McQueen
brand.
Such detailed work
. It kind of brings me back to the early
1800 century
where the
gowns
worn had really fitted waist then overlayed with puffy layers over the hips.
So defining
.
This dress is a
fashion look
I could imagine wearing to a luncheon at the
Hampton's
the mini series
Revenge
. I'm sure the price tag is quite spendy. 
But so feminine
. I thought adding a
Salvatore Ferragamo
beige ceyla bag
from
Stylebop.com
and also pair of
Alexander McQueen
2012
women's heels
would totally set the complete look. Could you imagine walking into a 
McDonald's
in a
fashion style
like this...
Everyone would probably
choke
on their
BIG Macs
...Ha ha...
I would love to here about your fashion style...drop me a line if you like.
~...............................................................................................................................~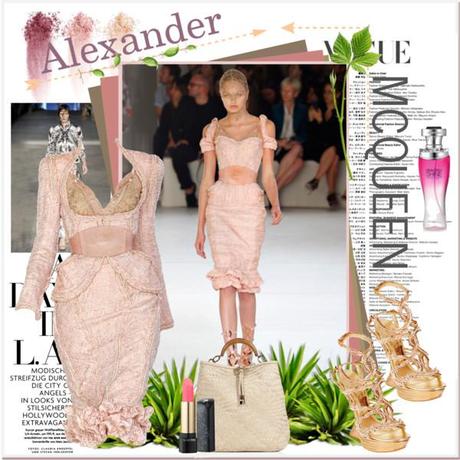 Alexander McQueen S/S 2012 Dress by
fashiontake-out
featuring salvatore ferragamo handbags