The Secret to Giving Customers What They Want in a "Have it your way" World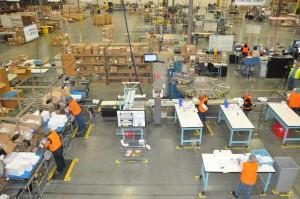 First there was Nike ID – an interactive website that enabled customers to design their own shoes, clothing and sports gear. Then there was Apple, with iPods available in a kaleidoscope of colors that could be engraved with personalized messages. Other titans of the consumer electronics world soon followed suit, providing tools and configurators that allow customers to design their own laptops, smartphones and sound systems.
Today, a Who's Who of brands, from Kraft, Hallmark and M&Ms to Keds and Ford offer customizable products. Speaking of Ford, we've come a long way from the days when Henry Ford pronounced "you can have your car in any color you want as long as it's black". No longer is product customization just a nice-to-have. More and more, it's business as usual in a world where customers are in the driver's seat and digital technology is the disruptive enabler.
The convergence of customization and customer-driven manufacturing brings us to the intersection of two trends Forrester Research aptly calls the "Age of the Customer" and the Age of "Mass Customization." However, even as more and more companies embrace the promise of customization, some epic failures – notably Levi Strauss and Dell Computer – present cautionary tales in the importance of getting the build-to-order model right.
So, what does it take? A good place to start is the supply chain. Specifically, the manufacturing and distribution processes. For many companies, success means harnessing technology to fulfill customer expectations without compromising efficiency or generating excess costs by warehousing multiple product, model, component and part variations.
Seven steps to a smart, agile build-to-order model
So how do you become predictive, responsive and decisive enough to launch an effective on-demand manufacturing model? Here are seven steps to get you on the road to success:
      Adapt your production processes to postpone customization
This means postponing final product customization until much later in the supply chain and much closer to the point of sale.
      Manage inventory with more agility
Keep only basic products in domestic warehouses and don't make them "shelf-ready" until retailers identify demand trends, so that you can translate buying predictions into forecasts and communicate specific orders to manufacturers.
     Find ways to accelerate response time
Often, identifying a consumer preference and fulfilling an order can take as little as three days. Turnaround of five to seven days is the new normal.
      Delay assembly
For manufacturers, responding to custom orders means waiting until retailers predict a need and assembling final products at the last possible moment. Modifications range from the installation of special software to changing product colors and features or including supplemental devices like power cords or printers.
      Be able to finalize and deliver products at a domestic warehouse
Have detailed pick, pack, and ship capabilities ready to roll to fulfill complex orders.
      Have a plan for customizing a variety of products in smaller lots
Success means responding rapidly to shorter order and delivery cycles. This means having the right manufacturing layout for your warehouse; training and cross-training employees on multiple tasks and implementing a technology platform that facilitates the completion of these steps in an organized, consistent and measurable way.
     Use ERP technologies to automate, streamline and escalate activities
How do you respond to changing business and process requirements – and keep the build-to-order model from becoming too time-consuming, costly or labor-intensive? Use ERP technology to fulfill small, specialized orders and still make a profit. With ERP tools, you can monitor complex process and products to the component level with precision.
Think your business lends itself to customization? Can ERP technologies and tools help you drive a new business model? Stay tuned for our next post to find out how product completion centers enable product and package customization at the tail end of the supply chain.
To learn more, download the Executive Brief titled "Flexible ERP and Supply Chain Solutions Help Manufacturers meet Fast-Changing Consumer Demand."