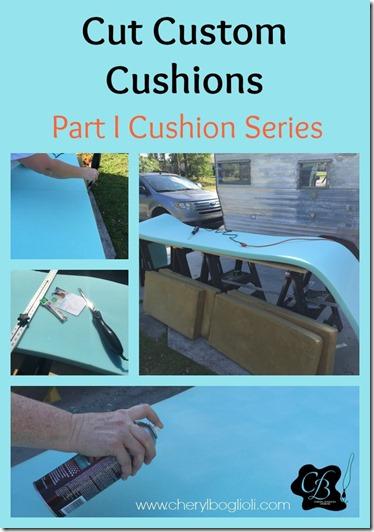 When I started looking for new cushions for Glinda, I found that most vintage trailers do not have standard sizes easily found in stores.  Since I was going to be spending some quality time in Glinda not only as a mobile office, but also using the gaucho as my main bed when traveling, I knew I wanted something a little more solid.  And, let's be honest, I am a curvy girl, and this is glamping, so I'd like great comfort too.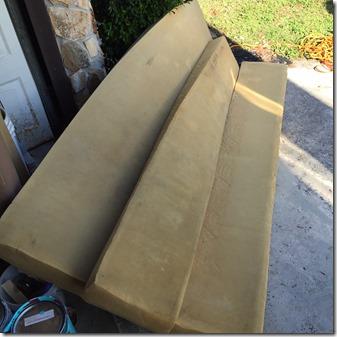 I knew I did not want to keep my old cushions.  They were 45 years old, quite worn down, stained, and disintegrating more each time they were touched.  They also didn't smell so great and did not provide much support.
I'm so excited to be working with Fairfield World and have them sponsoring the renovation of Glinda by providing the cushion foam.   After talking to Fairfield World and discussing my needs, we decided it would be best for me to create customized cushions. I needed 4 dinette cushions as well as three 79" cushions that would make a gaucho, which is a couch by day that slides out to become a bed when needed.  I wanted these 5-6" deep too.  See where the need for custom cuts came from.  I admit it was much easier than I expected to make this work.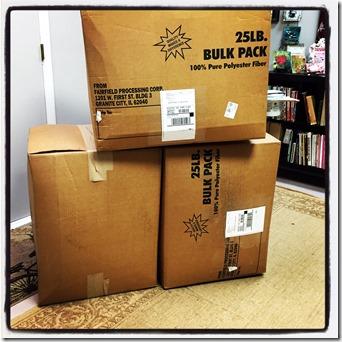 It started with the arrival of these three boxes.  Inside each was 10 yards of 2 inch foam shrink wrapped in a coil.  I was told I would need to open the foam and lay them out to re-expand for at least 24 hours.  Sorry, I was so excited to open the boxes, I forgot to take a picture of the rolls.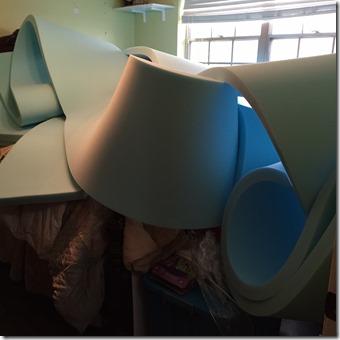 I also am also spatially challenged I guess, because I couldn't imagine what space this would take all open.  I laid it out on the guest bed, but it looked like a river of foam busting out of the guest room.  LOL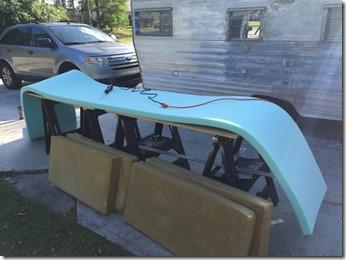 When it came time to cut the foam, I decided the driveway and my makeshift sawhorse table would be the best option. I had room to manipulate 10 yards and cut 39" of foam as well as 79" length of foam multiple times.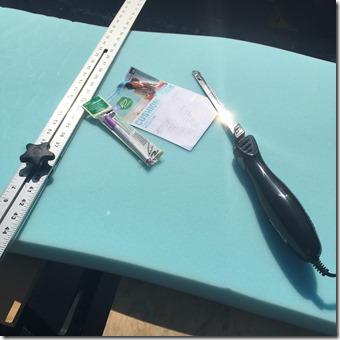 The tools I needed to get started was a straight edge, an electric knife, and something to mark cushions.  I used an air-soluble pen by Clover USA.  Notice, you can't wait too very long to start cutting once you make your mark if you use this pen, as it does start disappearing.   But that is a good thing too.  I didn't need to worry about it showing up through any chosen fabric.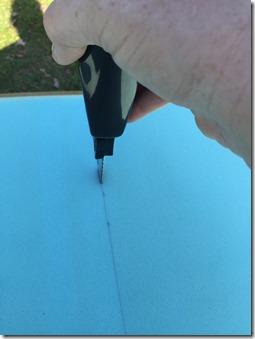 After making your mark, you can easily cut the foam with an electric knife. Click above to see how easy it cuts once I get my hands right when getting started.   Excuse the breezy day too.   The trick to cutting the foam with your electric knife it so keep your knife straight as possible.  Don't let it lean forward or backward or from left to right.  Try to keep it straight for the smoothest cut.   Don't panic if it's off just a tad as it will all smooth out when you wrap and cover the cushions.
I cut two pieces first to test how comfortable 4" would be.  After laying on the foam for a few minutes, I decided to add another 2 inches and have cushions that were 6" thick.  This is super thick and I kind of feel like the princess and the pea, but I will be comfortable.   Again, glamping is supposed to be glamorous camping, right?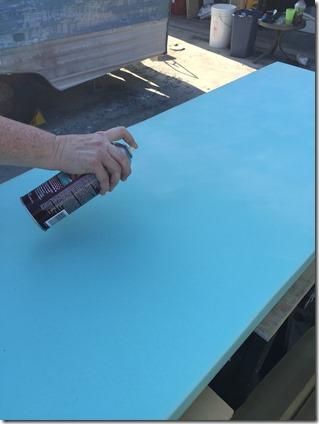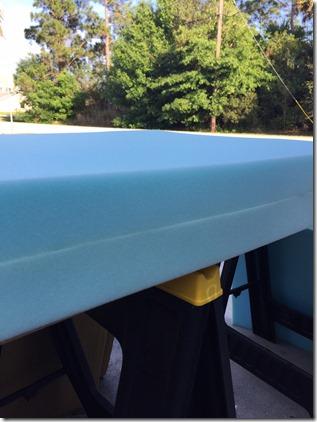 Using a spray adhesive, lightly spray the abutting sides of the foam and lay them together.  You may need an extra pair of hands here if you are working with larger pieces as you want them to line up well.  I used 3m Super 77 which works great.  When I ran out, I used Loctite.  I preferred the Loctite better only because it didn't seem to clog as quickly.   Again, I found it was best to do this outside.  This is adhesive being sprayed from an aerosol can, so be warned that you will wear some of this as will anything else nearby or directly downwind.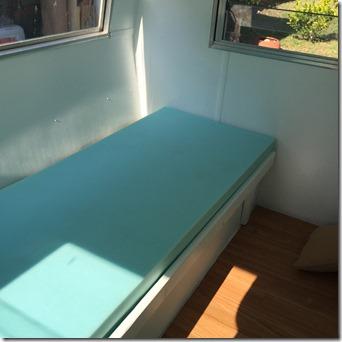 After I cut and glued the cushions, I did test them in place to ensure they fit before wrapping.
Come back Friday for Wrapping Custom Cushions, Part II Cushion Series.  You can do this!