This is a Sponsored post written by me on behalf of LEGO for SocialSpark. All opinions are 100% mine.
All of my children are huge LEGO fans. Even my adult sons still love to assemble LEGO kits. And now we all have another way to play with LEGOs -- by creating a LEGO Minifigure holiday card at minifigurefamily.com. Check out the card I created featuring my husband and I with our twins: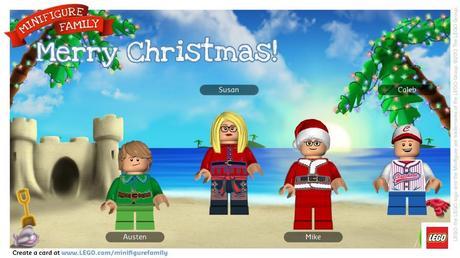 I had so much fun making my very own LEGO Minifigure holiday card. You can create up to 13 family members! Choose from different options for faces, hair/hats, tops and bottoms. You can even do the family cat and dog! (I chose not to do my cats because they didn't have an option for the color black, and my cats are solid black!) You can also choose the scenery and a message. I selected the beach scene since we live in Florida, but I saw many more options that I loved. It takes just minutes to create your very own LEGO Minifigure holiday card at minifigurefamily.com. You can share your finished creation through your social media sites or download and save the postcard on your computer.
I hope you'll create your own LEGO Minifigure Family holiday card. Get the kids involved. They can put together hundreds of combinations and send them to their friends. It's tons of fun and will bring about plenty of belly laughs -- ho ho ho!