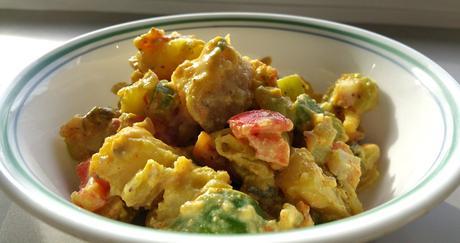 One thing you may have noticed about this blog,  you'll never see fancy recipes like  "Creamy Cucumber Tofu Yogurt Sauce", or "Braised Escarole" (whatever THAT is).
Not that those recipes aren't good – I'm sure they are.  But I make recipes for the food that I grew up eating.  You know, good ole fashioned, down home style, comfort food!
And I can honestly say we never had a Escarole in our southern kitchen – ever!  (Poor mom wouldn't know what to do with it if we had any – whatever it is.)
No, I take my comfort foods like meatloaf and mashed potatoes, chili and cornbread, biscuits and gravy, and I VEGANIZE them.  That way I still get to eat the foods I love, only without all the saturated fat, cholesterol, and calories.
Like this recipe for down home, 4th of July approved, get ready for the picnic, don't forget the sparklers, Vegan Potato Salad.
Good old fashioned comfort food, at its best.
Vegan Potato Salad
You'll want about a pound and a half of freshly scrubbed potatoes.  I used Yukon Golds but I'm sure every day Russets would work fine too.
Peel them if you want, but personally I like the peel so I leave it on.
How many potatoes are in a pound and a half?  That was about 4 smaller Golds and 1 medium-sized Gold for me, give or take.  This recipe is VERY forgiving, so no big deal about being exact.  It'll be fine.
Cut them up evenly and add to some cold water on the stove, enough to cover the potatoes.  Here's the thing, you don't want to OVERCOOK them or you'll end up with mashed potatoes.  Just enough to cook through, so check on them after 5 minutes or so.
Remember the smaller you cut them up the faster they cook.  Just done enough so that a fork will pierce them easily.
Meanwhile you're also going to need THIS RECIPE for Low Fat Vegan Mayonnaise I posted yesterday, so if you haven't already, go whip up a batch.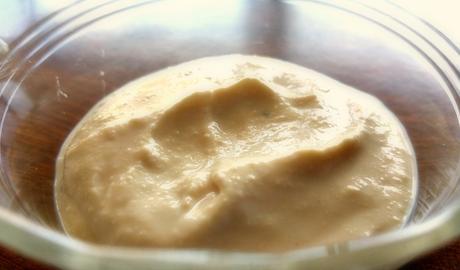 Can you use Vegenaise or some other Vegan Mayo?  Sure but remember they still use a lot of oil so the fat content will be pretty high.  I prefer low-fat so I make my own – it's actually pretty easy, and very tasty too!
For the veggies,  I used standard vegan potato salad veggies, like celery, onion, and dill pickle.  I also threw in some bell pepper and pepperoncinis, just cause I like to spice things up a bit.  Don't like them?  Leave them out.  Rather have green onion or a little more mustard?  Throw it in.
Like I said, this recipe is very forgiving.  Make it your own and enjoy it.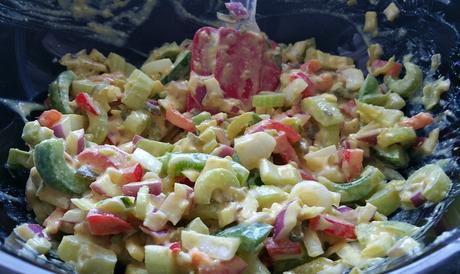 Mix everything EXCEPT THE POTATOES in a big bowl first.  That way when it coms time to add the potatoes there won't be a lot of stirring needed.
Now GENTLY fold in the potatoes.  Use a rubber spatula.  you don't want to go crazy and pulverize them.  Just stir enough so everything's coated with the dressing.
Now – if you're like me – go ahead and have a bowl.  It's pretty good warm.  BUT if you can manage it – let this sit in the fridge for a bit to allow the flavors to blend.
Now – fire up the grill, pull out that checkered tablecloth, and get those Jeff Novick Bean Burgers ready…
Because it's Summertime!
Happy picnicking.
Print
Creamy Vegan Potato Salad
Prep time:  30 mins
Cook time:  10 mins
Total time:  40 mins
Serves: 4-6 servings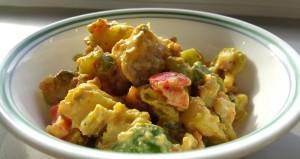 A creamy dill vegan potato salad with a low fat tofu dressing, perfect for those summer BBQs. Ingredients
1½ pounds potatoes, scrubbed and cubed
2 stalks celery, diced
1 small red onion, diced
1 bell pepper, color of choice (I used ½ green, ½ red)
3 Tbls dill pickle relish
1 Tbls pepperoncini (optional)
½ cup + 1 Tbls Low Fat Vegan Mayonnaise
2-3 Tbls prepared mustard
1 tsp celery seed
½ tsp paprika
salt and pepper to taste
Instructions
Add chopped potatoes to cold water and boil 5 minutes
Cook potatoes until fork pierces easily
Chop onion, celery, peppers and add to large bowl
Add pickle relish, mustard, and mayo and stir to combine
Add celery seed and stir
Fold in potatoes and gently stir to coat
Sprinkle with paprika and chill
3.3.2998