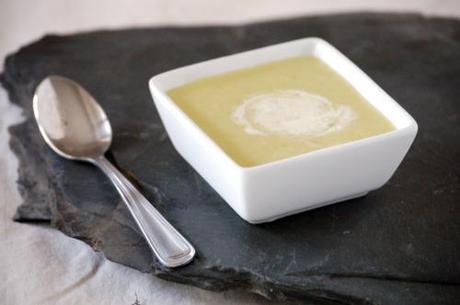 This tasty soup isn't just for St. Patrick's Day. It will be a winner all year long. Try it with ingredients as they become available seasonally. Garlic scapes offer a unique flavor as do wild onions/leeks known as ramps. I strongly recommend using a very flavorful stock. It will really beef up the depth of flavor.
Ingredients
1 pound leeks
2 shallots chopped
2 garlic cloves chopped
2 bay leaves
1/2 tsp crushed red pepper flakes
2 tablespoons butter
1/2 cup dry white wine
5 cups low sodium chicken stock (homemade makes all the difference but if not pick a high quality store brand)
1 to 1 1/4 pounds Yukon Gold potatoes not peeled or Idaho potatoes peeled and diced
1 1/2 teaspoons salt
3/4 teaspoon white pepper
1/2 to 3/4 cup heavy cream
Directions
Peel thick skinned potatoes or if using a thin skinned potato like Yukon Gold omit the skinning step. Dice up the potatoes so they cook easily.
Trim the green portions of the leek reserving about 1/3 to chop and include in the soup.
Halve the white part of the leek lengthwise and rinse well. Make sure all the sand is removed! No one wants a gritty soup.
Slice the keeps thinly and set aside with the chopped leek greens.
Peel and finely chop both the garlic and the shallots.
In a 5 qt. dutch oven or large soup pot, melt the butter over medium heat. Add the leeks, garlic, shallot, red pepper flakes, and white pepper to the butter. Cook until soft.
Add the wine and bring to a boil for about 3 min. Add chicken stock and potatoes. Bring to a boil. Once boiling, reduce heat and simmer until the potatoes are tender.
Allow soup to cool before pureeing in the blender.  In small batches puree the soup in a food processor or blender. Run the processed soup though a strainer to remove any chunks no blended.
Return the soup to a pan to reheat. Once reheated, stir in cream and adjust the seasoning.
I reserve a little cream to drizzle in the middle of the bowl right before serving.
This soup can easily be made the night before a dinner. Simply skip the reheat and cream addition and do it just before serving the next day.
For other great potato leek soup recipes check out:
Potato Leek Soup by Alton Brown
Potato Leek Soup by Emeril Lagasse