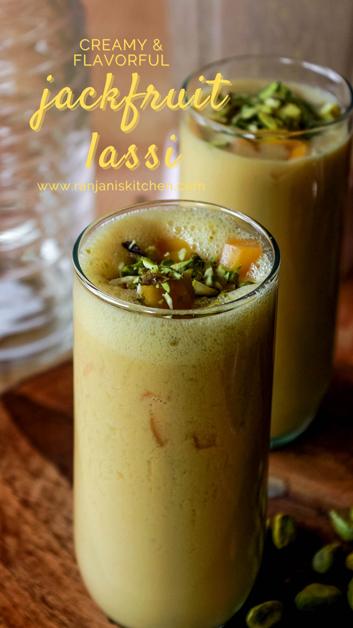 creamy & delicious jackfruit lassi recipe | palapazha lassi - flavorful summer coolant whic you want to make it again and again.jackfruit is flavorful and sweet. I have added more flavor and sweetness by adding cardamom powder and jaggery.do not miss out to try this jackfruit lassi recipe in this jackfruit season.
What is jackfruit lassi?
Jackfruit lassi is a flavorful drink made with mainly jackfruit and curd.extra flavored with cardamom. Finally chopped jackfruits and chopped mixed nuts to get the crunchy taste.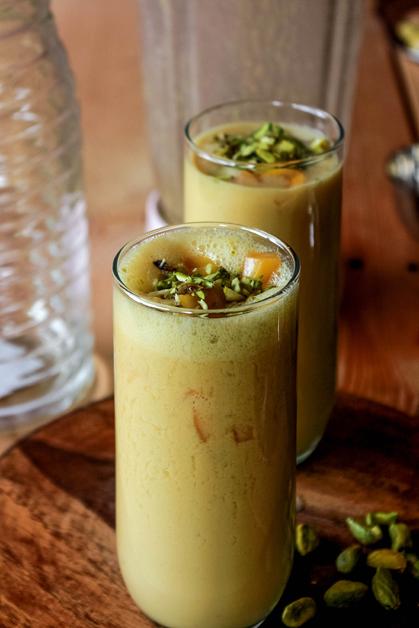 Jackfruit benefits:
Palapazham is a fibre rich fruit that you use to treat for constipation and the fruit has good source of vitamins and minerals. We can take jackfruit while it is in season.this fruit helps to prevent diseases like cancer and heart diseases. Also helps to prevent eye problems like cataract.
Jaggery - add jaggery or sugar or honey for your availability and taste. Jackfruit is sweet in nature. So keep in mind and the sweetener according to it.
Ice cubes - if you want to drink chilled, you can add ice cubes while serving or grinding the lassi.
Jackfruit - we can use any variety of jackfruit for this lassi recipe like canned jackfruit.
Jackfruit recipes:
Lassi recipes:
Ingredients for jackfruit lassi recipe:
video recipe for palapazha lassi:
how to make Jackfruit lassi
Chop nuts of your choice and keep aside.
Wash jackfruit,deseed and chop them into rough pieces. Reserve 3 to tbsp of finely chopped jackfruits to top with lassi while serving
Add chopped jackfruits to mixer or juice.
Along with jackfruits, add cardamom powder, jaggery and thick curd.
Add some water and grind to smooth lassi consistency.
Transfer to serving glass, top with chopped jackfruits and nuts.
Serve chilled.
(Visited 40 times, 1 visits today)