Creamy Butternut Squash & Cavolo Nero Pasta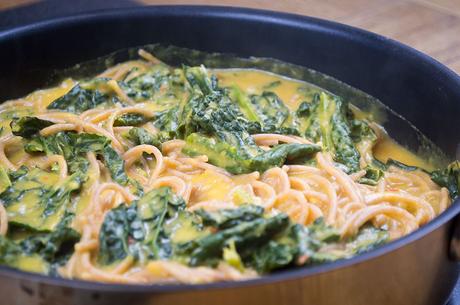 Finally I get this post to you. Everyday of the last 10 days I have been sitting at my computer (when I am not working) and deciding that i will write this post once I have completed all the essential work that I need to so, then by the time that is done I have no time or energy to write the post. So today I am keeping my focus and getting this done before I finish some other bits off.
The recipe today is one I actually prepared some time ago but have just got round to posting it, another naughty thing! I promise though that it is worth the wait and I am sure you will love it. The creamy sauce is made from the butternut squash making a super rich sauce with a lovely sweet edge. It is perfect for when you are craving something creamy but want to stay away from animal products but keep the calories down too.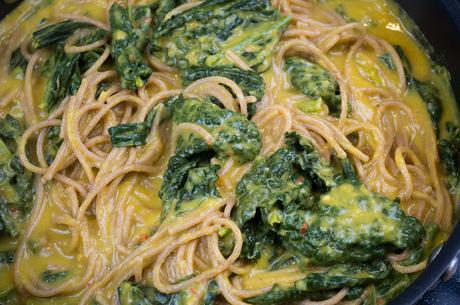 I also wanted to make sure it had a good dose of green stuff in it too and used cavolo nero which you may also know as Italian kale and so kale would work just as well. However cavolo nero is deep and rich in flavor and something I much prefer to curly kale but it is down to what you like the best. If kale of any kind is something you cannot get hold of then this would also work with spinach.
So I am going to get straight on to sharing this recipe with you but before I do I just wanted to let you know that I have been sticking to the 30 Day Smoothie Bowl Challenge this month and shortly I will produce a run down of the the smoothies consumed and how I have found it.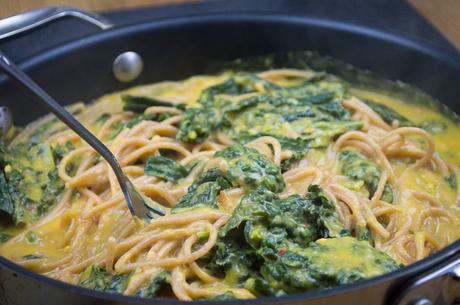 &
&