I went pretty mad with my chocolate toppings but faced with these Profiteroles filled with delicious vanilla cream and armed with two different chocolate ganache, it was hard not to!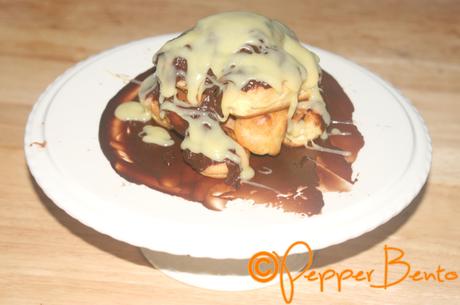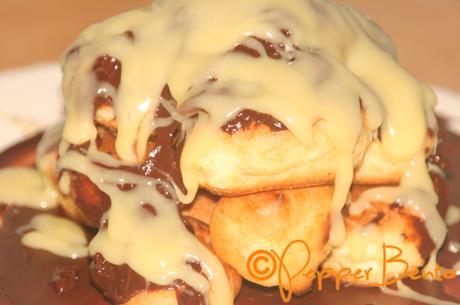 Cream Filled Profiteroles with White & Milk Chocolate Ganache
Serves 2
Ingredients
For the Choux Pastry
65g plain flour, sifted
Pinch of salt
50g unsalted butter, diced plus extra for greasing
2 free range eggs, beaten
120ml water
For the filling
200ml whipping cream
5 teaspoons icing sugar, sifted
1 teaspoon vanilla extract
For the topping
50g milk chocolate, chopped
50g white chocolate, chopped
100ml whipping cream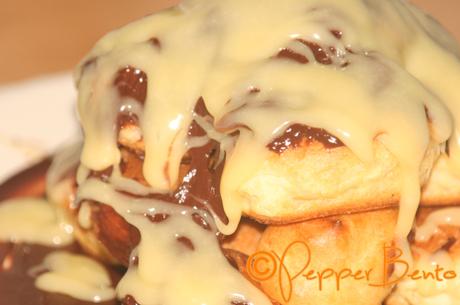 Method
Preheat the oven to 200oc.
Grease a baking tray with butter and set aside.
Sift the flour on to a piece of greaseproof paper and keep close at hand.
Put 120ml water into a medium sized saucepan with the salt and butter, heat gently until the butter melts.
Rapidly turn the heat to full and bring to the boil, sliding the flour in all in one go.
Remove from the heat and beat until it comes together to make a smooth heavy dough.
Put the pan back on a low heat and beat the dough for about a minute to slightly cook it, it should come away from the pan and make a smooth glossy ball.
Transfer the dough to a large mixing bowl and cool until lukewarm.
Gradually beat in the egg into the dough, you may not need all of the egg, the dough will become shiny and paste like and fall from the spoon when lightly shaken.
Spoon the pasty into a piping bag and pipe out 12 small balls of pastry on to the greased tray.
Sprinkle the tray with a few drops of water and bake for about 15 minutes, then without opening the door, reduce the temp to 170oc and bake for 7 minutes or until golden.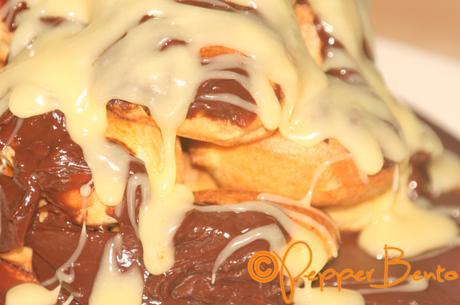 Remove from the oven and carefully prick a small hole in the side of each ball to allow steam to escape and keep them crisp.
Return to the oven and bake for another 3 minutes, until completely crisp.
Transfer to a cooling rack.
While they are cooling make the filling.
Whip the cream with the sugar and vanilla until just stiff.
Once the balls have cooled, open a small hole in each and pipe inside with the cream.
Lastly, make the topping.
Place 2 measurements of 50 ml of whipping cream on the hob in two separate small pans on a medium heat.
Melt each type of chocolate separately and when the cream is hot, pour one chocolate type over each pan.
Stir and allow to cool slightly before placing a small amount of chocolate on to the center of your stand or plate to keep them upright and stuck and dipping the tops of each ball into the toppings or decorating as desired.
Leave the chocolate to set then pile them up and enjoy!