Creating a Fashion Look With a Stela9  Crossbody Bag
I'm so craving a
Crossbody Bag
from
Stela9
...
I started searching the Internet for a special
handcrafted crossbody bag
. Something I could just wear casually to the mall or just tote around at the beach.
I found Stela9.com; this beautiful
online handbag boutique
is inspired by a husband & wife duo. What a duo they are to have created a line of
colorful
and
vibrant handbags
. Each handbag is constructed by skilled artisans.
What is the most fascinating part of their story
; is that a portion of all proceeds is given back to the communities and the skilled artisans that constructed and contributed each handbag.
Stela9
had the 
handbag
 I was looking for; a
colorful crossbody handbag
.
Stunning
.
Now you ask.
What would I wear with my colorful vibrant 
crossbody bag
? I choose a
white water dress
from
Quiksilver
, and a pair of
Jessica Simpson
evangela platform sandals
 from
macys.com
.
I would have to say...I'm ready to go shopping with my BFF'S for a fun, colorful day at the mall. Can't wait to call them!!! Would you wear a
fashion look
like this? I would love to here about your fashion style...drop me a line if you like.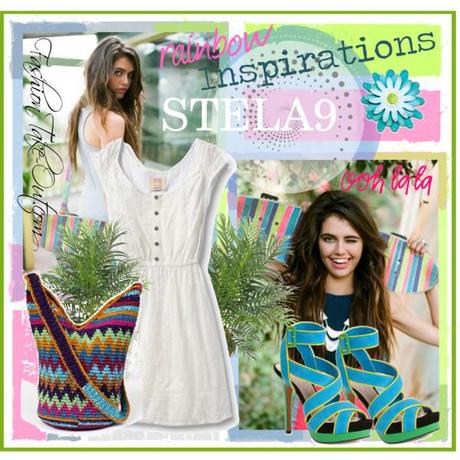 Rainbow Inspirations by
fashiontake-out
featuring ankle strap sandals