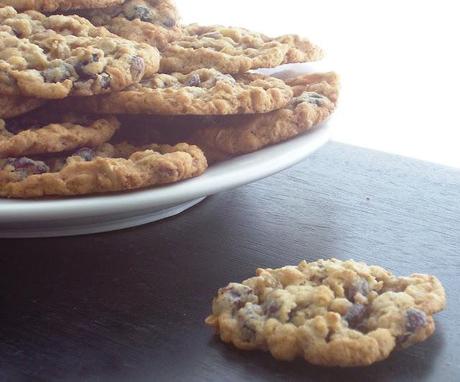 For someone that doesn't care too much for cranberries, I have them in almost every form in my household right now. I have them frozen, dried, and I have cranberry juice! So why not bake with them right?
As I have stated before, I am not a fan of cranberries but, now they are my new favorite fruit to bake with. I'm not sure what it is but when they are baked they taste so great, especially in a bread, muffin or cookie.
I absolutely enjoyed these cookies; they are a soft crunch with the bittersweet taste of cranberry. Although these cookies are great, and pretty much a healthy little snack; if you eat one maybe, but I knew I would fail at eating just one
L
…they wouldn't last a day in my house if I didn't give them away.
J
Recipe adapted from:
Food Network (courtesy of Crisco)
*makes 3 dozen cookies*
Ingredients
3/4 cup Crisco Butter Shortening
¾ cup sugar
¾ cup firmly packed brown sugar
2 large eggs
2 teaspoons vanilla extract
1 cup all purpose flour
1 teaspoon baking soda
1 teaspoon ground cinnamon
¼ teaspoon salt
2 ¾ cups old fashioned rolled oats
1 cup dried cranberries
1 cup chopped walnuts
Heat oven to 350 degrees F.
Line 2 baking sheets with parchment paper.
Beat shortening, sugar and brown sugar in large bowl at medium speed until blended.
Beat in eggs and vanilla.
Combine flour, baking soda, cinnamon and salt in a small bowl. Beat into shortening mixture until smooth. Stir in oats, dried cranberries and walnuts.
Drop by rounded tablespoonfuls about 2-inches apart on prepared baking sheets.
Bake 10-12 minutes or until light brown. Cool on baking sheets 2 minutes. Place on cooling rack to cool completely.